Is Cisco's Room Kit Mini Really the Best Fit for Your Huddle Space?
Remote work is rapidly becoming the norm for many businesses. It's a trend that doesn't seem to be going anywhere, either. In fact, a recent article on Forbes predicts it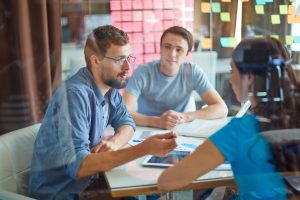 will likely only grow stronger in 2019 and beyond, as younger workers continue to establish their place in the workforce. Furthermore, research conducted by Intermedia found one in four workers would turn down a job if it didn't include the ability to work remotely. What effect could this demand for flexibility have on traditional office staples, like say, the conference room? Could 2019 spell the end of the conference room as we know it? We doubt it. The need for traditional conference spaces will likely never vanish. However, for many organizations, the trend toward working remotely may necessitate a change in the way they think about at least some of the space they've set aside for collaboration.
Huddle spaces are conference rooms, but on a smaller scale. They can house meetings of half a dozen or fewer in-person participants. Then, any remaining members of the guest lists, are able to dial in from wherever they happen to be. As the number of remote meeting attendees goes up, organizations should consider creating a few huddle spaces.
Beyond layout concerns, the questions remains, what technology is needed to make sure huddle spaces achieve full value?
Evolving employee collaboration alongside their work styles
Late last year, Cisco released the Webex Room Kit Mini, a solution built for the specific purpose of transforming huddle spaces into intelligent, secure conference rooms. Tying together everything needed to keep an increasingly dispersed workforce connected – codec, microphones, camera, and more – the Webex Room Kit Mini could fit perfectly within the huddle space use case and more.
Let's quickly rundown the capabilities that set the Webex Room Kit Mini apart.
Built for the huddle space environment. The Webex Room Kit Mini camera sports a 120-degree field of vision. That's perfect for recording a small group of tightly-clustered people.
Brings big-time intelligence to small meetings. Its camera automatically detects meeting participants, delivering a consistent framing experience so no one gets cut out of the discussion.
Enables sharing without wires. Space is at a premium in many of today's workplaces, making it hard to avoid the cords and cables that bring most conferencing solutions to life. The Webex Room Kit Mini only needs two – power and HDMI – as it permits both wired and wireless sharing.
Supports premium content sharing. Webex Room Kit Mini supports full 4K content sharing, ensuring those in the huddle don't miss a thing.
Next Steps: Decide if Webex Room Kit Mini right for your huddle space
Want to learn more about Cisco's Webex Room Kit Mini? Our team of collaboration experts is available to dive deeper into the above points and more to help you determine if it's the right solution for your organization's needs. Visit https://www.arrayasolutions.com/contact-us/ to start a conversation with them today.
As always, feel free to leave us a comment on this or any of our blogs through social media. Arraya can be found on LinkedIn, Twitter, and Facebook. Remember to follow us to stay up to date on our industry insights and unique IT learning opportunities.