Safety in the Cloud with Dell EMC Data Protection for VMC on AWS
Back in the spring, we wrapped up a months-long deep dive into the features and benefits of VMC on AWS. Along the way, we covered NSX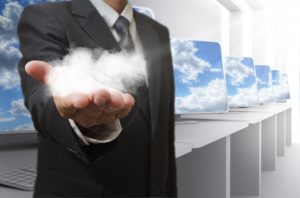 integration and native tools, as well as the solution's ability to power migration simplification and disaster recovery. However, a topic came up at our recent Arraya Solutions Tech Summit that compelled us to revisit the series. Even as cloud solutions like VMC on AWS become more popular, myths about what they can deliver abound. If left un-busted, one such myth could have a disastrous impact.
The myth in question pertains to data backups. Many customers assume that their cloud provider is regularly backing up their data. Unless there's an agreement in place that says otherwise, a cloud provider's actual responsibility here is zero. Like most cloud platforms, VMC on AWS operates under a shared responsibility model. AWS supports the infrastructure upon which its services are built. This includes hardware, software, networking, etc. Everything else? Data, applications, VMs, OS patching? All of that falls squarely on the organization itself. In short, even in the cloud, the customer's data is the customer's responsibility.
With that said, the question becomes: What can organizations do to ensure their cloud-based data will be accessible when they need it?
Exploring Dell EMC Data Protection for VMC on AWS
Luckily, there are quite a few ways to address this problem. Top data protection vendors have identified that gap and have flocked to address it. Diving into every such option would necessitate either one gigantic blog or a separate series unto itself. Instead, our Data Center team decided to focus, at least for now, on one possible solution: Dell EMC Data Protection for VMC on AWS.
Dell EMC's Data Protection was the very first data protection tool available for VMC on AWS shops and remains a leader in the space. It delivers enterprise-grade protection for critical files that are housed in hybrid environments. In order to simplify the data protection process, this solution comes as part of a bundle including Dell EMC Data Protection Software as well as Data Domain Virtual Edition. The idea is to put in one spot all the tools organizations need to keep their data safe and available.
Here are a few fast facts about Dell EMC Data Protection for VMC on AWS:
It sports an incredibly efficient client-side deduplication capability, topping out at a best-in-class rate of 6:1
The solution's powerful deduplication coupled with its built-in compression abilities can reduce demand on object storage landing places by 71%
Dell EMC Data Protection for VMC on AWS integrates with on-prem and cloud-based solutions, allowing for the same level of security and performance no matter where data resides
It ties in vSphere's management functionality to bring time and resource-saving automation into data protection, as well as backup and recovery, saving valuable time during disaster scenarios
Modern organizations need to stay innovative and Dell EMC Data Protection for VMC on AWS supports this by leveraging VMware's SDDC abilities, as well as its own inherent scalability
Next Steps: Learn more about keeping your data safe wherever it lives
As mentioned above, the subject of data protection and the cloud is far too big for a single, easily-digestible blog post. Arraya's Data Center team can take you through this topic, or through Dell EMC Data Protection for VMC on AWS specifically, in far greater detail. They can help you assess your data protection needs and find the best solution for your organization. Start a dialogue with our team today by visiting: https://www.arrayasolutions.com/contact-us/.
As always, we want to hear from you! Leave us a comment on this or any of our blog posts by way of social media. Arraya can be found on LinkedIn, Twitter, and Facebook. While you're there, follow us to stay up to date on our industry insights and unique IT learning opportunities.