Hackers Are Ready to Go This Holiday Season: Here's What You Can Do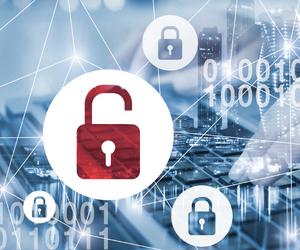 As always, the holidays have crept up and are now in full swing. Folks are busy working to close out the end of the year, finish their holiday shopping, and, hopefully, host safe gatherings with friends and family. While this time of year brings so much to look forward to, the rush of the season can lead many to let their guard down.
With several industries still feeling the strain of the pandemic, cyber hackers are ready to take full advantage of users' distraction and activity.
This year, we've compiled a list to help keep you aware and safe this holiday season, so you can spend time on what really matters.
Here are four areas you should be focusing on:
Phishing & Ransomware Scams
Ransomware continues to be a consistent threat to the digital world. This type of cyber attack involves bad actors who take over your computer, systems, or network and hold it ransom until you pay their demand.
Ransomware attacks are usually carried out through phishing techniques (often email) and it's anticipated that these will increase throughout the holiday season.
There are several red flags to watch for that are signs of a phishing email attempt:
Poor grammar and spelling errors
Generic greetings, such as "Dear customer"
Warnings of a low balance, account issue, or a request for your information
Sender's email address is illegitimate
False sense of urgency, specifically related to short-term sales and limited supplies
Scammers are constantly updating their techniques to trick users into providing private information. Any message that conveys a sense of urgency warrants a close review to ensure it's legitimate before taking any action.
Phony Advertisements
If it's too good to be true, it's probably a scam. Social media has become a common place for scammers to advertise and social media companies do not validate the legitimacy of advertiser websites and products.
This year, hackers will be taking advantage of the many global supply chain issues that are affecting holiday shopping.
Here are a few tips to help you verify a company and their website before doing any online shopping:
Research the company: At the least, type their name into a search engine with keywords like, "scam" or "complaint"
Verify the website: Websites that use encryption will start with "https" at the beginning of the URL, however, this is not a sure sign that the site is legitimate as hackers can also encrypt their websites
Check your connection: Most internet browsers display a padlock icon to the left of the website's URL, which demonstrates whether your connection is secure
This year, and well into the future, it's going to be necessary to vet all websites before doing any online shopping. Be wary of advertisements touting limited supply of hot items or prices that are unusually low. These scams rely heavily on emotion and human error with the hope that you'll act before thinking twice.
Use of Company Assets
While our work and home lives are more intermingled than ever, it's important to maintain certain boundaries to ensure you're keeping your systems secure.
While you may be extra vigilante in watching for phishing attempts in your work email, hackers may also target your employer through your personal email. Opening a potentially malicious personal email from your company laptop could lead to an attack on your organization's entire network and assets.
Overall, it's best not to access personal inboxes or bank accounts on company devices and leave personal shopping to your own laptop or cell phone.
Travel & Proper WIFI Use
With the holidays comes travel and with travel comes remote work. For those planning to log on during their travels, use public WIFI carefully and sparingly.
When using public WIFI, others may be able to see what you're doing and what information you're sending or receiving. You should seek to limit public WIFI use, overall.
Should there be situations in which you do need to log onto public WIFI, here are a few steps you can take to increase your security:
Maintain a firewall policy: A firewall protects your network from unnecessary and unwanted network traffic and software. These can be configured to block data from certain locations, applications, or ports.
Limit your activity: Use public WIFI for casual browsing only. If you're looking up restaurants in your area or catching up on the news, public WIFI should be fine. However, hold off on any online shopping, banking, or work-related activity for a more secure network.
Delete the network: As soon as you're done, delete the WIFI network from your device so it doesn't automatically connect in the future without you knowing.
In general, using your cell phone's WIFI hotspot is often a better alternative to public WIFI use.
Next Steps: Proceed with Caution This Season
As the world continues to grapple with the many ways the pandemic is affecting our life and work, cyber hackers are taking advantage of any continued confusion and turmoil. It's important to be extra cautious this holiday season and into the new year.
To learn more about protecting your business's network and devices, check out our recent blog, The Top 8 Security Fails to Avoid to #BeCyberSmart.
Take action in protecting your business today. Contact an Arraya expert to get started.
Visit https://www.arrayasolutions.com/contact-us/ to connect with our team now.    
Comment on this and all of our posts on: LinkedIn, Twitter and Facebook.    
Follow us to stay up to date on our industry insights and unique IT learning opportunities.