In Case You Missed It: A Recap of VMworld 2021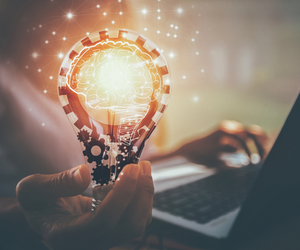 Last week's VMworld 2021 kicked off virtually for the second year in a row.
Channel partners, IT professionals, industry leaders, and more logged in remotely to hear about VMware's latest updates, strategies, products, and plans for the future.  
In case you missed it, Arraya's Data Center team compiled the announcements that should be on your radar: 
It's expected that organizations will continue to shift towards cloud modernization and application modernization. Microsoft reported that it expects 500 million apps will be built in the next 5 years, which is more than all the apps built in the last 40 years. Those on this transformation journey will now have another option for their infrastructure as a service needs.
VMware and Dell Technologies have partnered to offer Apex Cloud Services with VMware Cloud. This new infrastructure as a service offering will allow organizations to deploy pre-configured cloud instances in their data center, or at an edge location or co-location facility.
This service will provide better performance, more security, and more predictable pricing and costs.
The solution is in private preview now and is planned to be made available at the end of 2022.  
Cross-Cloud Services 
VMware CEO, Raghu Raghuram advised that "it's no longer about a 'cloud first' approach—it's about being 'cloud smart'… We give every organization the power to accelerate their innovation and control their own destiny in the multi-cloud era."
These new Cross-Cloud Services will offer three key advantages: 
An accelerated journey to the cloud
Cost efficiency
Flexibility and control across any cloud
These services will allow the customer to pick and choose the services needed on the desired cloud to meet evolving business demands.
These are comprised of five building blocks:
A state-of-the-art platform for building and deploying cloud-native apps
Cloud infrastructure for operating and running enterprise apps
Cloud management for monitoring and managing the performance and cost of apps across different clouds
Security and networking that spans across entire multi-cloud operations to connect and better secure all apps
A digital workspace to empower the distributed workforce along with edge solutions to deploy and manage edge-native apps.
This multi-cloud approach will allow organizations to be more agile and resilient.
During VMworld 2021, the future of VMware Horizon was revealed. Currently, VMware Horizon is split into two platforms. One is for environments running on vSphere (Horizon 8) and the second is for environments running natively on Microsoft Azure (Horizon Cloud on Microsoft Azure).
The next generation of VMware Horizon will be a single platform for all Horizon environments, either on VMware SDDC or running natively in the cloud.
This next-gen architecture means that much like VMware's other cloud SaaS solutions, like vRealize Cloud and VMC, they host and maintain the management components. This frees up customer resources and time for things like upgrades and patching, all while running the actual Horizon end-user workloads anywhere the customer chooses. This includes both on-prem or in a cloud environment.
vSphere 7.0 Update 3 
vSphere 7 Update 3 was announced at VMworld and is already generally available. It was reported that this latest update "continues to enhance the industry's leading virtualization and workload platform to add more value for customers in these key areas."
This will offer a number of new capabilities, including:
Enhanced Virtual Machine (SM) Service
Simplified set up for VMware vSphere with VMware Tanzu
Enhanced support for persistent memory
Added support for NVMe over TCP
New vCenter Server plug-in for NSX
This latest version will further help customers deliver both AI and developer-ready infrastructure, scale without compromise, and simplify operations.
VMware Cloud Disaster Recovery 
A strong protection plan includes both preventative and recovery measures. Delivered as a SaaS solution, VMware Cloud Disaster Recovery will now provide file- and folder-level recovery for customers to extract specific files or folders from VMs without powering up those VMs. This allows users to quickly extract recent, uncorrupted files and data. With VMware Cloud DR's planned file-level recovery, users can find the right files and the best versions to restore without spending hours going through each individual file.
In addition, VMware Cloud DR will provide an integrated, simpler way to backup and restore VMware Cloud on AWS VMs that don't require full DR capabilities.
Next Steps: Accelerate Your Digital Transformation with the Latest from VMware 
VMware continues to rethink technology to allow businesses to stay agile, without sacrificing security.
While we're excited about the announcements included in this blog, there are numerous additional updates not included here that could make a significant impact for your business.
To learn more about the latest releases from VMware, contact an Arraya expert today to start a conversation.
Visit https://www.arrayasolutions.com/contact-us/ to connect with our team now.    
Comment on this and all of our posts on: LinkedIn, Twitter and Facebook.    
Follow us to stay up to date on our industry insights and unique IT learning opportunities.