Latest Webex Updates: What's New & Top Features to Take Advantage of Now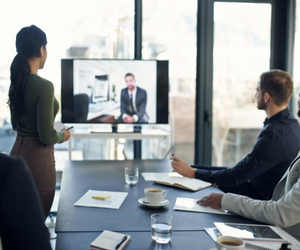 The latest updates and releases in technology are meant to help users enjoy a smoother experience, work more efficiently, and be more productive in general. Companies and enterprises have never relied on technology more as we interact, collaborate, and execute our daily tasks virtually through Cisco Webex.
As Webex continues to evolve, becoming more advanced and user friendly, there may be new features that your business has missed. While it can be difficult to stay current due to the sheer volume of continuous updates, these are vital to keep your business at the forefront of innovation and secure. These updates may remove redundant tasks, eliminate a roadblock your organization has faced, enhance your employees' collaboration potential, or close a vulnerable access point.
We've put together a comprehensive list of the latest upgrades and changes in Webex so you can be sure you're taking advantage of all available capabilities. Here's what you may have missed in Webex recently and how your business can optimize the technology you're already investing in:
Enable/Disable Video for Calling
Partners and customers with full admin rights can now enable or disable video for calling and other Webex services directly from the Webex app.
Webex has been working to optimize the call experience with audio noise removal. To date, they've removed 30 billion minutes of noise from Webex conferences. Now, with Optimize For My Voice, Webex can tell the difference between foreground speakers and background speakers so participants aren't distracted by anything happening behind the scenes.
Integrated Cloud Connected PSTN for Webex Calling
This newly integrated PSTN experience provides comprehensive end-to-end provisioning and management of Cloud-Connected PSTN infrastructure. This automates what has traditionally been a manual process.
Now participants can silently express themselves without the need to unmute and interrupt the speaker through animated reactions. You can clap, cheer, give a thumbs up (or down), and more to give the presenter a sense of the audience's response. This allows meetings to run seamlessly with more participation from attendees.
Integration with Google Workspace
With the Cisco Webex integration for Google Workspace, users can now schedule Webex meetings and Webex Personal Room meetings directly from Google Calendar or Gmail, within any browser.
Build Your Own Brand/Customization
Hosts can now brand and customize their Welcome and Registration pages for Webex Events with color theme, logos, background, and speaker profile information. You can preview all your options and make changes before publishing.
Immersive Share, now available in the Webex App, allows users to choose how video and content are shared and viewed by their audience. Now presenters can position the live feed of themselves in front of their content and/or presentation. With the content of their choice now set as their background, presenters have greater flexibility in their presentations.
Stage Can Now Contain Increased Number of Videos
While the previous limit was four, the stage can now showcase eight additional videos so more people can be front and center in your view.
With IMImobile, users can stop creating application silos. This communications platform automates and orchestrates all customer interactions, centrally. This connects users across 10+ channels, including Facebook, Twitter, and more so companies can connect with customers on the channel of their preference.
Seamless Customer Upgrade from Cisco Customer Journey Platform (R10) or CC-One (R9)
Customers who enroll for this feature are provided with access to a migration workspace which has a number of key capabilities for tenant configurations, historical data, and call recordings.
In Webex Meetings and Events, you can now choose to translate your conversation from English to one of 100+ different languages in real time. As attendees speak, the translation automatically appears in captions at the bottom of the screen, just above meeting controls. This can be purchased as an add-on for Webex Meetings.
Users can now add and delete web apps directly from the settings menu of Webex Boards and Desk Pros. You can also be informed of externally managed web apps.
Users now have a comprehensive view of your organization's adoption and usage of Cisco headsets with metrics on connection type, call duration, headset model, and geographic region.
Group-Based Control of External Communications
For Active Directory users, you can now select domains from your allow list and apply them to groups that you've synced from Active Directory. This allows you to restrict some users to internal communications only and control the domains that others can use for external communications.
Next Steps: Harness the Power & Benefits of Webex
Staying current in technology is a constant revolving door. However, taking advantage of the latest updates and releases can have a substantial impact on your business's workflow, efficiency, and security. Are you missing out on significant updates?
For more information on how to stay current on the latest from Webex and take advantage of all of Cisco's offerings, contact an Arraya expert today.
Visit https://www.arrayasolutions.com/contact-us/ to connect with our team now.    
Comment on this and all of our posts on: LinkedIn, Twitter and Facebook.    
Follow us to stay up to date on our industry insights and unique IT learning opportunities.