Microsoft Ignite 2021 Round Up: Hybrid Work, Remote Collaboration, & Security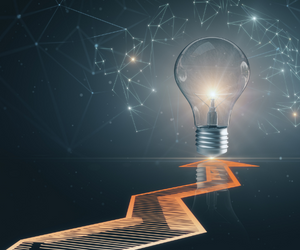 While we were already on the forefront of digital transformation, the pandemic pushed us forward much faster than anticipated. From the Metaverse to new Teams collaboration tools, Microsoft Ignite 2021 – held virtually November 2-4, 2021 – had several exciting announcements that will enhance remote collaboration, all while focusing on security.
Overall, Microsoft is working to better integrate its various services to make things easier to manage across all systems.
We've compiled a list of announcements that we're most excited about to keep you up to date:
1. Azure Arc
It was announced that directly connected mode in Azure Arc will be made generally available. This allows you to use all supported Azure services such as updates, Azure Monitor, Azure Cost Analytics, and more with your Arc-enabled data services.
This mode will unlock many solutions for modernizing your data centers, data services, and your stateful applications.
This will be a collaborative platform for virtual experiences that will be integrated directly into Teams in 2022. This is an effort to combine mixed reality and HoloLens work with meetings and video calls that anyone can participate in, from anywhere.
Users will be able to engage with eye contact, facial expressions, and gestures to allow real emotion to shine through. Users can log in through holoportation to project themselves as their most lifelike, photorealistic self in mixed reality to interact as if they're there in person or opt for an animated avatar version.
Microsoft Loop is the future of document collaboration. This app combines a powerful and flexible canvas with portable components that move freely and stay in sync across applications.
Loop organizes everything in one place, including files, links, and data, to make it easy to track progress and co-create naturally with notifications, highlighted changes, status labels, task lists, and more.
Customers will now be able to purchase Microsoft Viva as a suite (also available with a Glint HR platform add-on) to access all the generally available modules.
Powered by Microsoft 365 and experienced through Teams, this employee experience platform brings together communications, knowledge, learning, resources, and insights in the flow of work.
5. Teams
Continuing its heavy emphasis on Teams, Microsoft announced that users will now be able to collaborate with people outside of their organization. This will allow users to connect with customers, vendors, partners, and more in a more efficient and secure way.
This will ultimately include the ability to chat with people outside of their organization who are using a personal account.
6. Security
As security remains a top priority in today's climate, Microsoft made several security-related announcements.
Previously called Azure Defender for IoT, Microsoft Defender for IoT will now offer agentless network detection and response (NDR) that is rapidly deployed, works with diverse IoT, OT, and industrial control system (ICS) devices, and interoperates with Microsoft 365 Defender, Microsoft Sentinel, and external security operations center tools.
Previously called Azure Security Center and Azure Defender, Microsoft Defender for Cloud is a tool for security posture management and threat protection to strengthen the security posture of your cloud resources. Integrated with Microsoft Defender plans, it protects workloads running in Azure, hybrid, and other cloud platforms.
By reviewing a single score, users can assess their current security situation: the higher the score, the lower the identified risk level. Further, users can feel more secure by hardening all connected resources and services and detect and resolve threats.
Microsoft Defender for Business:
This new endpoint security solution is specifically built to bring enterprise-grade endpoint security to businesses with up to 300 employees, in a solution that is easy-to-use and cost-effective.
To protect against extortion and disruption from ransomware, Defender for Business elevates security from traditional antivirus to next-generation protection, endpoint detection and response, threat and vulnerability management, and more. With intelligent, automated investigation and remediation, it offers simplified configuration and management.
Users can expect the following capabilities:
Threat and vulnerability management
Attack surface reduction
Next-generation protection
Endpoint detection and response (EDR)
Automated investigation and remediation
APIs and integration
Throughout Microsoft Ignite, Zero Trust remained a key focus. Microsoft emphasized that this security strategy should provide maximum flexibility with maximum security. Passwordless authentication will now be generally available for organizations to deploy at scale. This will offer both increased security for your organization, with more simplicity for your users.
Next Steps: Bolster Your Hybrid Work Capabilities with the Latest from Microsoft
Microsoft continues to develop and enhance the way we connect, collaborate, and control our networks. As hybrid work is the future, they focused on empowering this new era of flexible work, providing the ability to innovate from anywhere, and protect everything with end-to-end security.
To take advantage of Microsoft's latest offerings, contact one of our subject matter experts who can help you determine what will best serve your organization.
Visit https://www.arrayasolutions.com/contact-us/ to connect with our team now.    
Comment on this and all of our posts on: LinkedIn, Twitter and Facebook.    
Follow us to stay up to date on our industry insights and unique IT learning opportunities.