Microsoft Inspire 2021: Key Takeaways and Looking Ahead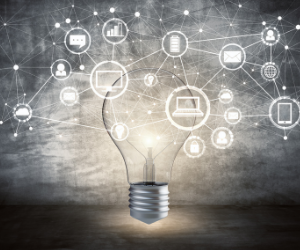 Microsoft Inspire, Microsoft's annual conference for its partner community, recently wrapped up, leaving us soaking in their latest announcements.
Reflecting on an "exceptional year of unparalleled disruption, accelerated innovation, and digital transformation," the conference highlighted the many ways our relationships with technology have changed since early 2020.
Microsoft announced several new product and program updates, with the purpose of providing new opportunities for partners to build on Microsoft cloud for the new world of work, while leveraging a foundation of trust and security.
How will these changes affect your organization? Arraya's experts have compiled a list of the key takeaways from Microsoft Inspire and the impact they could have on the tech giant's user base.
Windows 365 to Integrate to the Cloud
As the biggest news of the conference, Microsoft announced that Windows 365 will allow businesses to access Cloud PCs from anywhere and on any device.
Windows reported that Windows 365 will take the operating system for Windows 10 and Windows 11 (once available) to the Microsoft Cloud. This will allow users to stream the full Windows experience, including apps, data, and settings, to both personal and corporate devices. Information will be stored in the cloud, not on the device, to provide secure access with the principles of Zero Trust. This will allow companies to further expand their hybrid work models in which employees are both in the office and working from home.
Microsoft to Consolidate SIEM and XDR Security Tools
As the threat landscape continues to evolve, protecting individual systems and areas is no longer sufficient. Microsoft announced its latest security approach which integrates both XDR and SIEM tools from a single vendor. This means Azure Sentinel, Microsoft 365 Defender, and Azure Defender will be integrated as one solution.
Defenders will now be armed with more context and automation than ever to stay ahead of attacks.
XDR: Microsoft Defender
Microsoft Defender is delivered as two tailored experiences:
Microsoft 365 Defender (for end-user environments)
The following branding changes will unify Microsoft 365 Defender Technologies:
Microsoft 365 Defender (previously Microsoft Threat Protection)
Microsoft Defender for Endpoint (previously Microsoft Defender Advanced Threat Protection)
Microsoft Defender for Office 365 (previously Office 365 Advanced Threat Protection)
Microsoft Defender for Identity (previously Azure Advanced Threat Protection)
New features will include extending mobile threat defense capabilities across all major OS platforms, extending macOS support, and additional focus on phishing attacks.
2. Azure Defender (for cloud and hybrid infrastructure)
The following branding changes will unify the Azure Defender Technologies:
Azure Defender for Servers (previously Azure Security Center Standard Edition)
Azure Defender for IoT (previously Azure Security for IoT)
Azure Defender for SQL (previously Advanced Threat Protection for SQL)
New features include a unified experience in identifying and mitigating unprotected resources, additional protection for SQL servers on-premises and in multi-cloud environments, and support for operational technology networks with the integrations of CyberX into Azure Defender for IoT.
SIEM: Azure Sentinel
As Microsoft's cloud native SIEM, Azure Sentinel connects to Microsoft Defender to provide visibility across the entire environment and includes data from other security solutions, such as firewalls and existing security tools.
Azure Sentinel is deeply integrated with Microsoft Defender so you can integrate your XDR data and combine this with all security data across your entire enterprise.
New features include new entity behavior analytics view to make it easier to diagnose compromised accounts and simplified management of threat intelligence.
Microsoft Viva to Drive Culture Transformation
Microsoft Viva, the employee experience platform, is designed to work with existing solutions and can be easily customized and extended to be part of any company's portfolio to help drive its culture transformation. This platform unites collaboration, learning, and the wellbeing of employees so they're supported in their everyday workflows.
Microsoft has now added more than 20 new integrations for the platform, complementing the additions announced in February. Through these integrations, customers can seamlessly connect to the systems and tools their employees use every day right in the flow of Viva experiences.
Honorable Mention: Microsoft's "100/100/0" Sustainability Goal
Microsoft introduced "100/100/0" as one of their sustainability goals and initiatives.
While the world is shifting to electric, most electrons flowing onto grids today come from carbon intensive sources. Microsoft's 100/100/0 vision is that on all the world's grids, 100 percent of electrons, 100 percent of the time, will be generated from zero carbon sources.
By 2030 Microsoft seeks to have 100 percent of its electricity consumption, 100 percent of the time, matched by zero carbon energy purchases.
Next Steps: Take Advantage of Microsoft's Latest Offerings
To learn more about Microsoft's latest offerings, reach out to our subject matter experts who can keep you up to date and confirm if any of these new products or enhancements would benefit your organization. Contact our team today to learn more.
Visit https://www.arrayasolutions.com/contact-us/ to connect with our team now.
Comment on this and all of our posts on: LinkedIn, Twitter, and Facebook.
Follow us to stay up to date on our industry insights and unique IT learning opportunities.