Skype for Business to Retire on July 31, 2021: Are You Ready?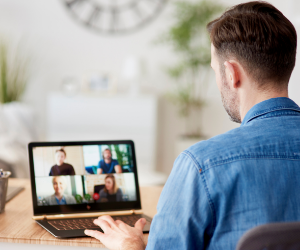 Back on July 30, 2019, Microsoft announced that they would be retiring Skype for Business in two years, opting to transition customers to the more successful collaboration hub, Microsoft Teams. Prior to the pandemic, Teams had approximately 32 million daily users. To provide some perspective on the workforce's increased need for remote collaboration, the number of daily Teams users is now a whopping 145 million as of April 2021.
Whether you feel like it went by in the blink of an eye, or it's been a lifetime, that deadline is now just around the corner. For users that still rely on Skype for Business, the July 31, 2021 deadline may have come quicker than anticipated. However, it's not too late to begin planning your migration.
Transitioning to Microsoft Teams: What to Expect
While change can often feel like a nuisance for business owners and employees initially, the upgrade to Microsoft Teams should bring enhanced workflow and features, while holding onto some familiar elements from Skype.
Microsoft Teams vs. Skype for Business
Most users will find that Teams will offer many features they relied on through Skype for Business, and then some. With Teams, users can engage through chats, calls, videos conferences, and virtual meetings. In addition, photos, documents, files, and notes are kept in cloud storage to be accessed at any time. These collaboration tools are all easily accessed, in one place.
In addition, Teams will integrate several features that Skype users will be familiar with, including:
Dynamic 911
This automatically uses the caller's current location to route to a Public Safety Answering Point (PSAP) call center operated by the local government.

Shorter Retention Periods
This will allow customers to limit channel and chat retention periods to as short as one day and ensure that when data is deleted it's removed from all permanent storage locations in the Teams service.

Teams and Skype Consumer Interop
This will allow users on the two separate services to communicate using both chat and calling.

Contact Center Integration and Compliance Recording
This will enable Content Center solutions through partnerships with Five9, Genesys, and NICE, along with Compliance Recording with ASC, NICE, and Verint.
Upgrade Options: Self-Upgrade vs. Assisted Upgrade
Depending on preference, companies can select to self-upgrade to Teams or opt for an assisted upgrade.
Self Upgrade: Those who self-upgrade can manage the entire process and transition themselves.

Assisted Upgrade: Those who wish to focus on "organizational preparedness, user awareness, and Teams training," can opt for an assisted upgrade.

For assisted upgrades, this process will differ slightly, depending on the existing Skype product:

a) Skype for Business Online-only: The assisted upgrade process will apply the TeamsUpgradeOverridePolicy policy to your organization, allowing all Skype for Business Online users to be placed in Teams Only mode.

b) Skype for Business Online with hybrid: Users may fall into one of the following categories:


On-premises users homed on Skype for Business Server.
Skype for Business Online users that are in Teams Only mode.
Skype for Business Online users that are not in Teams Only mode.
For a mixture of users in each of these categories, the assisted upgrade process will only switch Skype for Business Online users to Teams Only mode if they are not already in that mode. On-premises Skype for Business users will not be impacted by the assisted upgrade process.
Those scheduled for an assisted upgrade will receive upgrade reminder notifications delivered as Plan for Change posts in the Microsoft 365 Message Center 90 days before the scheduled upgrade date. These notifications will include links to resources and training materials.
If your scheduled assisted upgrade date is after July 31, 2021, your organization will continue to have access to Skype for Business until the upgrade is complete.
The duration of the upgrade will vary based on the volume of users and characteristics of the deployment, but most can expect the upgrade to take approximately 24 hours.
Any users who have not already self-upgraded or scheduled an assisted upgrade by July 31, 2021 will automatically be scheduled for an assisted upgrade. As such, those who want to ensure they can conduct a self-upgrade should do so immediately.
Resources to Encourage a Successful Transition to Teams
Upgrade Framework
From the planning phase to deploying and operating your new software, this step-by-step framework will help your organization properly prepare for the transition to ensure a successful and smooth upgrade for all members of your team.
Upgrade Planning Workshops
Receive guidance, best practices, and resources to help you plan and implement your upgrade. Begin with the "Plan your upgrade" session if you're just getting started.
Teams Video Training
From introductory training to specific sessions on collaboration, meetings, working with files, and live events, these provide quick, clear instructions on multiple functions of Teams.
A successful upgrade will align both technical readiness and user readiness, so it's important to begin planning your organization's transition as soon as possible.
Next Steps: Are You Prepared for the Teams Upgrade?
While the deadline is coming up, you still have time to act and focus on your company's transition to Microsoft Teams.
Need a hand preparing your users or your environment for life after Skype for Business? Arraya Solutions can help. Our team can handle everything from end user training to upgrade execution, to ensure your organization enjoys the most modern collaboration experience. Reach out to our team today to start a conversation!
Visit https://www.arrayasolutions.com/contact-us/ to connect with our team now.
Comment on this and all of our posts on: LinkedIn, Twitter, and Facebook.
Follow us to stay up to date on our industry insights and unique IT learning opportunities.