Windows 11 Launch Date Announced: What to Expect & Our Top 3 Tips to Prepare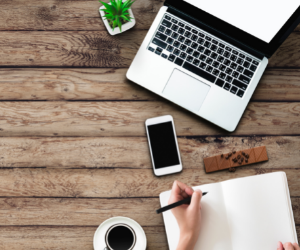 The wait is almost over. It's been announced that the free Windows 11 upgrade will officially launch on October 5, 2021. This update has been six years in the making as Windows 10 debuted back in the summer of 2015. As many PC users rely on virtual connection more than ever before, Microsoft expressed that Windows 11 will "empower productivity and inspire creativity" for users.
With the launch date only a month away, here's what you need to know about the upgrade, what new features you can expect, and what you can do to prepare.
When, Where & How? What We Know About the Logistics of the Upgrade
While we know that the official launch date of the Windows 11 upgrade will be October 5, 2021, this will be made available to eligible users on a rolling basis. For those buying new PCs, Windows 11 will come pre-loaded.
The roll out will be done in a phased approach to ensure quality for all users. New eligible devices will receive priority and access the upgrade first. Next, in-market devices will be considered based on several factors, including:
Hardware eligibility
Reliability metrics
Age of device
Microsoft has advised that there could be additional factors that may impact the upgrade experience.
Windows Update will notify users with eligible devices once the upgrade is available to be completed.
For those using Intune, the Windows 11 upgrade will be introduced as a servicing update. The traditional OS media download from the Microsoft Licensing portal may be available soon. However, the process that manages Windows as an update will be more effective for those using Microsoft Endpoint manager. The Windows 11 Update Version will be available in the Intune console when Windows reaches General availability.
Microsoft anticipates that all eligible devices will have the free upgrade by mid-2022.
Out with the Old & In with the New: What to Expect with Windows 11
Windows 11 offers several changes meant to streamline and simplify your desktop while enhancing the security of remote and hybrid work.
Here are a few of the upcoming changes that we're looking forward to:
Microsoft Teams to be Directly Integrated
Chat from Microsoft Teams will be fully integrated into Windows 11, with access from the start menu. This will allow users to mute/unmute themselves directly from the taskbar.
Snap Layouts and Snap Groups
Windows 11 will offer a variety of layouts where users can snap multiple windows into place and optimize the use of your screen real estate. Further, these layouts can be saved so multiple windows jump into their designated place with one click.
Built-In Security Technology
Windows 11 will provide enhanced protection against malware threats with developed virtualization-based security (VBS) and Hypervisor-protected code integrity (HVCI or memory integrity).
Zero Trust-Ready Operating System
The Zero-Trust model assumes breach and verifies each request as though it originates from an open network, regardless of where the request originates or what resources it accesses.
Microsoft Store for Business & Education to Retire
The Store for Business will be refreshed and retired as of 2023. However, capabilities to manage the Microsoft Store will be included in Microsoft Endpoint Manager and Applications will be published in the Software Center and the Intune Application.
Who is Eligible? The Latest Windows 11 Upgrade Specifications
The Windows 11 upgrade is free to PC users, but the upgrade is not compatible with all systems. IT teams and users will need to confirm their devices meet the system requirements to ensure they'll be eligible for the upgrade.
Processor: 1 gigahertz (GHz) or faster with 2 or more cores on a compatible 64-bit processor or System on a Chip (SoC)
RAM: 4 gigabyte (GB)
Storage: 64 GB or larger storage device
System firmware: UEFI, Secure Boot capable
TPM: Trusted Platform Module version 2.0
Graphics card: DirectX 12 compatible graphics/WDDM 2.0 driver
Display: >9" diagonally with HD Resolution (720p), 8 bits per color channel
Internet Connection: Microsoft account and internet connectivity is required for setup for Windows 11 Home
Recently, Microsoft updated its compatible processor list to allow select PCs using Intel 7th gen processors to be included in the Windows 11 upgrade.
You can also check to see if your device is Windows 11 eligible by going to Settings > Windows Update and select "Check for updates."
Act Now: Steps Your Business Should Take to Ensure a Smooth Transition
With the upgrade only a month away, now is the time to be proactive and ensure your team is ready for Windows 11.
Here's what you can do next to prepare:
Check Your Eligibility
At a minimum, follow the steps above to make sure your PC is ready for the upgrade. If your PC is not eligible, you will need to get a new PC to have access to Windows 11. After the October launch date, all new PCs will have Windows 11 pre-loaded.
Enable the OneDrive Folder Migration
Before you begin your upgrade to Windows 11, it's important to ensure that your data will be available on the upgraded system. Make sure you enable the OneDrive Folder Migration to allow the documents to move between OS versions and workstations. There are currently 40 settings that can be configured for OneDrive today in Intune.
Take Advantage of Testing
Begin testing the ability to deploy multiple configurations and versions of OS releases using Intune. Early adopters will be able to group manage the hardware eligible computers to subscribe to the Windows Insider Channels with more than a handful of available configurations.
Next Steps: Stay Tuned for the Latest Windows 11 Developments
As we countdown to the October launch date, we'll be keeping you up to date on the latest information provided by Microsoft. For more information on what to expect, how the launch will be conducted, and what your IT team should be doing to prepare, reach out to an Arraya expert.
As with any change, preparation is key to ensure a smooth transition. Whether you need help with enterprise management, upgrade execution, or managing your devices through autopilot, Arraya Solutions can help. Reach out to us today to start a conversation.
Visit https://www.arrayasolutions.com/contact-us/ to connect with our team now.
Comment on this and all of our posts on: LinkedIn, Twitter and Facebook.  
Follow us to stay up to date on our industry insights and unique IT learning opportunities.