3 Ways to Manage 2022's Continued Growth & Vacancies in the IT Job Market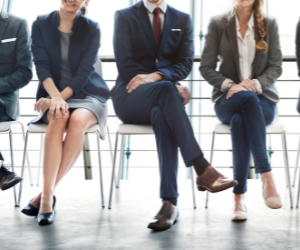 Even prior to the pandemic, the IT industry faced a labor shortage as technology took on a greater role within nearly every industry and business. Since March 2020, this reliance on technology has reached unprecedented levels and, when coupled with rising cyber threats, the demand for IT talent has never been higher.
Once the "Great Resignation" was added to this combination, the job market tightened significantly as 47 million Americans quit their jobs in 2021. There are no signs that this trend is slowing and it's estimated that 4.4 million Americans left their roles in February 2022 alone, bringing the total number of current job vacancies to more than eleven million. This tight job market has created a challenge for businesses looking to maintain and expand their IT teams and infrastructure.
CompTIA's Tech Job Report for April 2022 outlines that the demand for tech occupation job postings have gone sky high with more than twenty thousand new roles posted from March 2022 to April 2022 (the majority of which are for Software Developer/Engineer roles).
As the pandemic progresses, the future of the workforce and the workplace will continue to shift, which can make it difficult for businesses to resource plan when they don't know what next year or even next month will look like.
Amid all these complications, the ball must keep rolling. Here's how your business can manage your IT workload throughout ongoing staffing changes and challenges.
How to Manage Your IT Workload Amid Vacant Positions
As employers scramble to fill empty roles, they're facing burned out employees, increased employee demands, limited skillsets, and supply chain shortages. These issues can have significant consequences, including an impact on the quality of service or product that's being provided, an increased time to market, and more.
Here's what your organization should consider doing to address these challenges:
Think Through Your Recruiting Strategy
While many employees focus on the specific role they're interviewing for, in addition to company culture and benefits, the application and interview process will also have a major impact on their decision-making.
It's important to be realistic in your recruiting strategy. Since most employers are facing stiff competition, an unnecessarily drawn-out interview and onboarding process can quickly lose candidates to another company who is faster. Your process should be quick, streamlined, and any necessary decision-makers should be ready to get an offer out within a matter of days, not weeks.
Leverage a Contingent Workforce Through a Trusted Partner
Bringing on contractors whenever necessary through a trusted partner is one of the quickest ways to support both operational and project initiatives. Recruiting outside skillsets can engage your team with an individual who has knowledge of a specific product, methodology, practice, or more for a specific project or on a broader, ongoing basis.
In addition, contractors can provide immediate relief to existing internal staff and ensure that all mission-critical business operations run uninterrupted while vacant roles are in the process of being filled.
Engage a Managed Services Partner
Engaging a managed services partner is an excellent way to ensure your environment has the resources and support it needs without draining your team and budget. By allocating these responsibilities to a trusted partner, your organization can better focus on crucial business objectives.
Whether your business requires enterprise managed services, which oversees the full breadth of your IT environment, or more specific, individual service offerings, a managed service partner should tailor their services to meet your individual needs and adapt to any necessary changes.
Next Steps: IT Resources On Demand
If your business is facing changing staffing needs, Arraya's staffing solutions can provide support for your IT environment so your business can best focus all efforts on what matters most.
Consider these two contingent staffing offers:
Bringing on contract staff is best for supporting operational or project initiatives that require rapid turnaround times. Contract staff can be hired to fill vacancies for several reasons, such as business change, attrition, maternity or paternity leave, disability, and more.
As these contracts are non-committal, your business can assess the candidate on an ongoing basis and accommodate staffing changes, whether you're scaling up or down.
For those businesses looking to fill a role fast without the lead time of bringing on a full-time employee, a contract to hire solution is another option. A contract to hire employee's capabilities and performance can still be assessed on an ongoing basis and if desired, they can be hired full-time at no charge after six months.
This allows businesses the opportunity to fill openings faster and make an instant impact on their existing employees' workload but aim for an end goal of staffing full-time roles.
Balancing the rapidly changing technical demands of today's businesses with the right staff to handle those needs is challenging. Whether you need assistance in infrastructure engineering and support, security and compliance, or applications and software, our staffing team can put together a leading solution tailored to your business.
With the right people in place at the right time, your business will maintain a competitive edge within your industry. Contact an Arraya expert today to start a conversation.
Visit https://www.arrayasolutions.com/contact-us/ to connect with our team now.   
Comment on this and all of our posts on: LinkedIn, Twitter and Facebook.   
Follow us to stay up to date on our industry insights and unique IT learning opportunities.