Addressing the Cyber Security Talent Shortage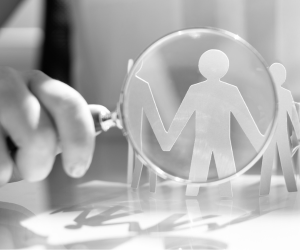 There will always be uncertainty. The world continues to deal with the pandemic, global conflict, a potential recession, and more. Growing cyber threats stem from these issues and seem to be the only thing we can be certain of. With this, the demand for cyber security practices, solutions, and talent follows. It's very likely that the cyber security workforce shortage of 2022 will carry on well into 2023.
Amid the talent shortage the entire workforce is facing, IT and cyber security skills are particularly thin. It's estimated that there are still 3.4 million empty cyber security positions according to a cyber security workforce study. This leaves businesses at risk without proper security professionals on staff and gives those that carry these in-demand skill sets the upper hand.
As the demand for cyber security professionals remains sky-high, it's never been more important for businesses to be flexible in their search for talent.
For those looking to stay ahead, a contingent workforce is a great way to address vacant cyber security jobs and ensure your business has the talent you need to secure your organization.
The Benefits of Hiring Cyber Security Contingent Staff
Leveraging contingent staff allows businesses to address immediate staffing needs, acquire specific cyber security skill sets, and remain flexible should they need to scale up or down quickly.
Contingent staff can allow you to:
Remain Agile: Easily Scale Up or Down
Certain industries were severely impacted by COVID-19, specifically. For example, the live events industry came to a screeching halt in March 2020 due to pandemic-related restrictions. They had to suddenly scale way down to weather the lockdown and then as restrictions lifted, almost two years later, they faced excessive demand for these live events.
Those with contingent staff on board are better prepared to make these rapid changes. This allows them to both control costs through difficult times and to rise to the occasion when business is booming, and their security needs suddenly increase.
Fill Necessary Skill Gaps & Harness Specialization
The pandemic certainly increased society's reliance on technology and the "Great Resignation" tightened the job market. But even before this, the cyber security industry was facing a labor shortage. There are no signs that the demand within this industry will go down anytime soon as businesses continue to expand their digital footprint amid growing cyber threats.
Whether your business requires specialized skills on an ongoing basis or for a single, specific project, contingent staff can help you fill this gap within your team (and quickly). These are often experienced professionals whose skill level is difficult to find on a full-time basis.
Control Cyber Security Spend Amid Increased Wages
The current job market is giving those with in-demand skills the upper hand as cyber security wages and benefits grow. The median salary for cyber security professionals in the U.S. is currently $135,000.  
Not everyone can afford to hire these skills in-house. Pulling in contingent staff provides a faster and more affordable route both through the recruitment process and wages.
Contingent staff allows you to fill necessary roles while providing the freedom for your business to walk away should a particular partnership not work out as expected or is no longer needed.
Partner Up to Find the Right Cyber Security Talent
This demand for talent was discussed well over a decade ago and cyber security demand in future years will only grow. One of the biggest hurdles businesses face in finding the right talent and skillsets is within the hiring process itself. 
Here's how the right staffing partner can help you find contingent cyber security talent to address your immediate and ongoing needs:
Skip the hiring process altogether
A staffing partner will set clear expectations for the role through the job posting or job description to ensure you find the right person with all necessary qualifications or certificate programs. A staffing partner will be quick to act so experienced talent won't be deterred by drawn-out interview and hiring processes.
Better identify your team's needs
While you may have a certain role or need in mind, there could be a better option. A staffing partnership will provide a high-touch, consultative approach to help you identify your skill gaps and the right professional to address that gap. By understanding what it is you're trying to accomplish, your partner can ensure the person you're seeking will be qualified to address that need and more.
Find talent no matter your network
Not every business has the bandwidth to spread the word and find the right people. A complicated project or task may require specialization, specific expertise, or leadership skills that you simply can't find on your own. A staffing partner will be able to tap into their broad network to give you the best chances of finding the right talent.
Next Steps: Connect with IT Resources On Demand 
Arraya's on-demand IT staffing services provide you with flexible, cost-effective resource management that scales with your changing needs.
We work fast to pair you with highly skilled resources that provide the specific technical expertise you need today while allowing the flexibility to adjust on the fly. Our professionals mesh seamlessly with onsite IT units and can provide both short- and long-term technological relief with minimal onboarding.
The Arraya Staffing advantage includes:
Access to a large and diverse range of technology resources
Rapid and seamless sourcing, screening, and onboarding
Flexible, cost-effective solutions tailored specifically to client needs
Extensive region-specific talent pools
Low-risk, stress-free contract to permanent hiring options
Quality and satisfaction guaranteed
Sign-up for a 30-minute virtual Lunch & Learn and we'll send you a $25 Grubhub gift card.
Visit https://www.arrayasolutions.com/contact-us/ to connect with our team now.
Comment on this and all of our posts on: LinkedIn, Twitter and Facebook.    
Follow us to stay up to date on our industry insights and unique IT learning opportunities.