Harness the Power of Microsoft Teams: How to Take Advantage of All That Teams Offers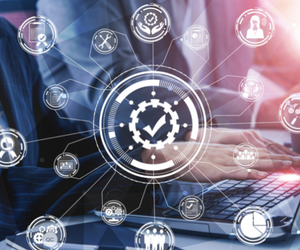 Microsoft Teams has become the platform of choice throughout the pandemic based on the global need for remote collaboration. In 2021, Teams reached a staggering 250 million active monthly users. However, many businesses and organizations are only tapping the surface of what Teams can do for them.
In this blog, we'll break down the Teams world of applications and bots, connections with other systems, and how your business can take advantage of automation.
With a little extra knowledge, businesses can eliminate redundant tasks, streamline workflows, and boost productivity overall within their organization.
Apps, Bots, & Connectors
Applications, bots, and connectors work together within Teams to make day-to-day tasks easier and users more productive overall.
App in Teams provide content and services to users that help with Teams integration. With over 700 apps available within the Teams store, these are web apps that run context inside Teams to make everyday work easier.
Apps contain one or more of the following parts:
Bots, which are also referred to as chatbots or conversational bots, are commonly used for:
Embedding functionality from other services
Automating low level tasks
Triggering workflow from conversations
With Bots, you communicate via message for something as simple as a search request to something as complex as an AI-powered conversation. Bots can be part of a larger application or stand alone and improve productivity and collaboration by bringing intelligence to chat within your Teams channels.
Bots can reduce the need to constantly switch applications and windows by triggering workflows directly from your conversations.
Connectors are proactive services out of Teams that send information and content directly into your Teams Channel where members can see this information and act on it. This turns regular messages into actionable tasks.
With connecters, you can:
Launch with a Bot: Quickly trigger scheduled flows using the Flow Bot in Teams
Streamline approvals: Aggregate and automate all of your Team's approval processes
Create and manage flows: Schedule alerts, notifications, and more with automation, all without leaving Teams
These facets are not mutually exclusive, and their functionality intertwines with one another to increase efficiency, productivity, and make users' lives easier overall.
Power Platform
While Teams is the hub for all your communication and collaboration tasks, Power Platform is the core that connects everything, including Office 365, Dynamics 365, Azure, and hundreds of apps.  
Power Platform is an app that comes native with Teams which hosts major components, including:
Each of these apps can then work with the Dataverse, or Common Data Service, allowing users to securely store and manage data that's used by your business applications. The Dataverse is easy to manage and secure as data is held within tables with sets of rows and columns that are meant to store specific types of data. Whatever security posture you have as it relates to Azure or 365, you can present this same information into the Dataverse with the same permissions and structures.
To learn more about each of these components, check out our blog, Microsoft's Power Platform: How These 4 Products Are Ready to Modernize Your Business.
Power Automate
Power Automate allows users to streamline repetitive tasks and paperless processes.
This can be done in three different ways: Infusion of AI (similar to the virtual chat agents), API-automation (DPA), and UI-automation (RPA).
Data Process Automation (DPA) allows you to automate processes that include multiple applications that offer an API. You can then leverage the API to push and pull data from one system to another, based on the defined business logic. Power Automate provides a UI to build these automation flows and all 365 applications can natively communicate via Power Automate.
Every Microsoft application has a specific functionality built in that users can leverage, without having to write code. With Power Automate, users can stitch together tasks to automate an entire process in a Microsoft application or approximately 400 outside applications.
Robotic Process Automation allows users to build workflows from their desktops for applications that don't have an API. Users can customize, build, and manage UI flow scripts in a security cloud environment by using low-code experience with step-by-step record and play back experience.
Users can seamlessly integrate UI automation with API-based automation and AI through AI builder by combining UI flows with regular flows. This allows users more flexibility in where they access their data and information.
This desktop automation can be used by anyone within your business with unlimited use cases as the platform is entirely built in with no code.
Next Steps: What Are Your Pain Points?
At Arraya, we can help you better understand your Teams framework, create repeatable components, then leverage these components into whatever business use case fits your needs. What workflows cause the most headaches for your employees? How can you automate or streamline these tasks?
Let us help you harness the power of Teams. Whether you're new to Teams or a seasoned user, we can help you with:
Assessments and planning
Execution and structuring of data
Support and maintenance
Documentation
Data migration and integration
For more information on Microsoft Teams, contact an Arraya expert today to start a conversation.
Visit https://www.arrayasolutions.com/contact-us/ to connect with our team now.
Comment on this and all of our posts on: LinkedIn, Twitter and Facebook.
Follow us to stay up to date on our industry insights and unique IT learning opportunities.