How to Stay Agile: Let's Talk About Contingent Staff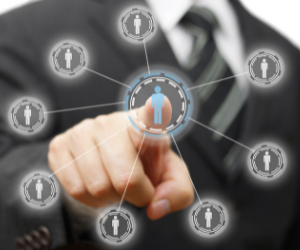 There will always be uncertainty. As the world continues to deal with the pandemic, global conflicts, and more, it seems the only thing we can be certain about is uncertainty itself. In addition, businesses are grappling with inflation, supply chain issues, and a hot job market. Maintaining talent, especially within the IT industry, is a challenge as the demand for these skillsets remains sky high.
It's never been more important for businesses to be flexible and agile. For those looking to stay ahead, a contingent workforce is a great way to face the many challenges that businesses are experiencing today.
The Benefits of Contingent Staff
Leveraging contingent staff allows businesses to address immediate staffing needs, acquire specific skillsets, and remain flexible should they need to scale up or down quickly.
Here's what contingent staff can offer:
Remain Agile: Easily Scale Up or Down
Certain industries were severely impacted by Covid-19, specifically. For example, the live events industry came to a screeching halt in March 2020 due to pandemic-related restrictions, making those within this industry almost entirely unable to operate. They had to suddenly scale way down to weather the lock-down storm and then as restrictions lifted almost two years later, they faced excessive demand for these live events.
Organizations with contingent staff on board, were prepared to make these rapid changes. This allowed them to both handle the difficult times and to rise to the occasion when business was booming.  
Fill Skill Gaps & Harness Specialization
While the pandemic certainly increased society's reliance on technology and the "Great Resignation" tightened the job market, the IT industry was facing a labor shortage prior to all of this. There are no signs that the demand within this industry will go down anytime soon as technology now provides the backbone of nearly every business.
Whether your business requires specialized skills on an ongoing basis or for a single, specific project, contingent staff can help you quickly fill skill gaps within your team. These are often experienced professionals who would be difficult to find at a similar skill level on a full-time basis.
Flexibility as the Workforce Shifts
There's been a lot of discussion about the future of the workforce as more in-person activities resume. Some businesses have promised their employees the opportunity to work from home full-time, permanently. Others are requiring their staff to return to the office and resume operations as they did prior to the pandemic. Ultimately, it's not going to be a one size fits all solution for every business.
As the demand for talent remains high, flexibility should be a top priority for employers. With a contingent staff, businesses can provide this flexibility to staff and remain flexible themselves. How the workplace will operate in one, five, or ten years down the road is still very much a mystery.
In addition, contingent staff can be more cost effective, provide a fresh perspective that hadn't previously been considered, and provide the freedom for your business to walk away should a particular partnership not work out as expected.
Next Steps: Hiring Contingent Staff the Right Way
While there are clear benefits of contingent staff, there is always a good, better, best way of doing things.
Here's how your business can find the right talent in contingent staff:
Set Clear Expectations
Make sure you're setting clear expectations for both the role requirements and the specifics of the work environment. It's not going to end well if you hire someone who had different expectations for the role than what they experience. For their work environment, these should also be clearly established ahead of time so you and your staff know when they're needed in the office or when they can log on remotely.
It's also important to take the current job market into consideration. An unnecessarily drawn-out interview and hiring process can deter talent. Unexpected requests from you can make them reconsider. Your process should be straightforward, upfront, and streamlined with all decision-makers ready to act.
Making the time to set these clear parameters upfront will ensure you don't sacrifice staff quality for speed.
Scrutinize the Role
The talent required for each role will vary based on what your business is looking to accomplish. For simple, straightforward tasks that only require manpower, the experience necessary for the role will be less specific. However, a complicated project or task may require specialization, specific expertise, or leadership skills. This hiring process will need a more high-touch, consultative process.
Identify Your Team's Strengths, Weaknesses, & Skill Gaps
As we've mentioned, contingent staff is an excellent way to fill skill gaps within your company. However, without proper consideration you may end up with more talent in one area and still lack in another. Taking the time in advance to properly identify your current talent, what your team may be lacking, and your specific needs will help you fill the role with the right individual.
While technology is a fundamental part of nearly every business, it's important to remember that these tools are only as good as the people who use them.
Consult Your Network
While it's one of the oldest tricks in the book, referring to your network for potential staff is a tried-and-true method. In addition, this is a great way to stay in touch with staffing trends within your industry and local area.
Whether you're looking for contract staff or prefer contract to hire, at Arraya, our staffing solutions can provide support for your IT environment so your business can focus on mission critical operations. Contact an Arraya expert today to learn more.
Visit https://www.arrayasolutions.com/contact-us/ to connect with our team now.
Comment on this and all of our posts on: LinkedIn, Twitter and Facebook.    
Follow us to stay up to date on our industry insights and unique IT learning opportunities.