Improve Your Security & Employee Experience with a VDI Monitoring Solution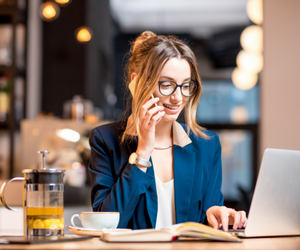 Numerous industries continue to grapple with supply chain shortages and PC sales are facing significant delays. Shipping issues and semiconductor shortages are leading to back orders, sometimes for up to four months.
As businesses and employees simply can't operate without PCs, many businesses have turned to the bring your own device (BYOD) method. This allows employees to use their own personal devices to connect to their employer's network and complete all necessary work-related activities.
BYOD can be a great policy that benefits both the employer and the employee. The employer doesn't have to spend money on new hardware and the employee won't have to carry around multiple devices. However, a BYOD policy can also present security risks. In today's high risk cyber climate, you should not be using BYOD devices without seriously considering and addressing this exposure.
This is where a secure virtual desktop infrastructure (VDI) solution steps in.
The Benefits of Using a VDI Monitoring Solution 
A VDI solution is a "desktop virtualization technology wherein a desktop operating system, typically Microsoft Windows, runs and is managed in a data center. The virtual desktop image is delivered over a network to an endpoint device, which allows the user to interact with the operating system and its applications as if they were running locally."
While we've already discussed the flexibility that remote access grants employees and the cost savings that it provides for employers, this solution also provides a more secure environment in several ways:
Disaster recovery: As VDI is hosted in the corporate data center, IT teams can move a VM to a healthy host if the current one experiences a hardware failure.
Data security: Virtualization centralizes data on premises or in the cloud rather than on endpoint devices.
IT control: VDI provides IT teams with the ability to enable or disable key features, such as USB access, print capabilities, and cut and paste.
When using VDI, implementing the recommended best practices will go a long way in supporting your security. This includes establishing stringent policy-driven access controls, quarantining intrusions with micro-segmentation, investing in employee education, and applying the latest security patches.
To learn more about available VDI solutions, check out our blog: Is Your Remote Work Experience Working for Your Company?
Enhancing Your End User's VDI Experience 
Whether you're in the early stages of implementing a VDI solution or looking to improve your employee experience with your current one, a VDI monitoring solution can make a significant difference. This type of solution monitors performance management, security, and technical issues so you're in full control of your environment.
For your employees, a VDI monitoring solution can drastically improve their daily workflows. By proactively monitoring the VDI environment, businesses can detect and resolve issues proactively, rather than waiting to learn about issues directly from the end users.
The result is a smoother workspace for employees and a more secure environment for the employer.
Next Steps: Selecting the Right VDI Monitoring Solution  
At Arraya, we leverage a variety of tools and customized solutions to address each customers' individual needs within the VDI space.
We can help your business find the right tools to monitor your environment in real time. With visibility across all desktop users, machines, and apps, your help desk will address issues more efficiently and your employees can expect a more seamless experience overall.
Whether you're in the early stages of considering a VDI monitoring solution or looking for assistance in managing your ongoing environment, our team is available to help you through the entire process.
Reach out today to start a conversation.
Visit https://www.arrayasolutions.com/contact-us/ to connect with our team now. 
Comment on this and all of our posts on: LinkedIn, Twitter and Facebook.  
Follow us to stay up to date on our industry insights and unique IT learning opportunities.