Is Your Remote Work Experience Working for Your Company?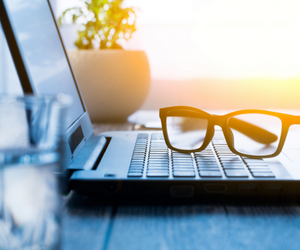 The pandemic brought on unprecedented disruption in the workforce. With only a matter of days to plan, anyone capable of working from a laptop was sent home. While remote work was already gaining popularity prior to the pandemic, in March 2020 the remote workforce boomed overnight. As IT departments had to act fast, many of these newly configured remote work capabilities weren't thought out well. After all, they were only supposed to be a temporary solution.
As two weeks has turned into almost two years, now is the time to re-evaluate your remote workforce. With the stabilization of hybrid work, employees are changing the way they connect with one another. A large portion of the workforce will continue to work from home indefinitely and this "new world of work" requires a reliable and secure virtual desktop infrastructure (VDI) solution.
In this blog, we'll break down and compare the best VDI solutions for securing and improving your employees' remote work experience.
VDI Solutions: Getting to Know Your Options
Azure Virtual Desktop
Azure Virtual Desktop offers remote users a secure, easy to manage, and productive personal computing experience from the cloud. Users can access both Windows 10 and Windows 11 for a familiar experience with Outlook, OneDrive, and Teams.
This offers:
Built-in intelligent security
Azure Virtual Desktop's security capabilities proactively detect threats and take remedial action.
By storing in Azure rather on local desktops, your employees and company data will be protected by Azure Firewall, Azure Security Center, Azure Sentinel, and Microsoft Defender for Endpoint.
The ability to deploy and scale in minutes
Simplify the deployment and management of your infrastructure and scale quickly when needed. With the Azure portal as your management hub, you can configure network settings, add users, deploy desktop apps, and enable security all in one place.
As there are no additional license costs for existing eligible Microsoft 365 or Windows per-user licenses, businesses with a modern cloud-based virtual desktop infrastructure only pay for what they need.
Further, businesses can right-size virtual machines (VMs) and shut them down when they're not in use.
Horizon Cloud with On-Premises Infrastructure
Horizon Cloud with On-Premises Infrastructure combines the economics of the cloud with the simplicity of a hyper-converged infrastructure (HCI) to rapidly deliver virtual desktops and applications to end users.
Deploying virtualized desktops and applications on-premises and close to end-users improves performance and ensures security and regulatory requirements are met. This solution simplifies your transition to the cloud and requires less time and IT expertise to get up and running and with a unified cloud plane. This makes it possible to deploy your first 100 desktops in less than one hour.
Users can choose from a broad range of certified vSAN ReadyNode and HCI partners.
Horizon in the Cloud
VMware's Horizon in the Cloud enables a digital workspace with the efficient delivery of virtual desktops and applications to workers.
Users can expect to:
Efficiently deploy, manage, monitor, and scale desktops and apps across private, hybrid, and multi-cloud deployments using a cloud-based console and SaaS management services.
Leading edge technology automates the provisioning and management of virtual desktops and apps, transforming legacy infrastructure.
This scalable, cloud-based platform has flexible deployment options across private and public clouds.
Secure data and achieve compliance
Ensure secure remote access to corporate resources from any device with security built into the VMware infrastructure.
Keep employees connected and productive from anywhere, at any time, and on any device.
With deep integration into the VMware technology ecosystem, the platform offers an agile, cloud-ready foundation, modern management, and end to end security.
Horizon Cloud on Azure
Horizon Cloud on Azure deploys Window 10 virtual desktops and apps from Azure, all with the enterprise-class capabilities of VMware Horizon.
This provides:
Added value to Azure Virtual Desktop through advanced power management, application and user environment management, and hybrid capabilities
Advanced user environment management capabilities with App Volumes while using Dynamic Environment Manager to simplify application management and reduce cloud consumption costs
The most cost-effective approach for cloud-based Windows 10 virtual desktops and applications in a hybrid environment with existing on-premises investments
Intrinsic security that leverages VMware Horizon Cloud and Carbon Black
From a single cloud-based console, you can deploy and manage desktops wherever they are (on-premises or in Azure) with cloud-native features like application, user environment, and power management.
Next Steps: Selecting the Right VDI Solution
Now is the time to step back and re-evaluate your company's remote work experience. What was working for you a year or two ago may no longer be the best solution.
When selecting the VDI software solution that will best fit your business's needs, it's important to consider these 5 factors:
User Configuration Options
Unsure of which VDI solution is best for your organization? Arraya can help. Already have an existing VDI solution that you'd like to improve? We can perform health checks and assessments to improve your end-users' experience.
Contact an Arraya expert to start a conversation today.
Visit https://www.arrayasolutions.com/contact-us/ to connect with our team now. 
Comment on this and all of our posts on: LinkedIn, Twitter and Facebook.  
Follow us to stay up to date on our industry insights and unique IT learning opportunities.