Should You Partner with a Managed Security Service Provider (MSSP)?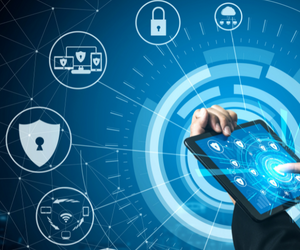 Despite inflation and growing fears of a potential recession, the U.S. job market hasn't cooled off. As of June 2022, the U.S. Bureau of Labor Statistics reported that there were 10.7 million job openings and employers added 528,000 jobs in July alone.
The competition for talent continues, particularly in the IT market, as workers benefit from the abundance of job openings. The demand for IT talent in particular is making it difficult for businesses to staff these critical roles and find the right skillsets to meet their needs.
There are a number of ways employers can manage their IT workload amid this talent shortage. In this blog, we highlight Managed Security Service Providers (MSSPs) and how this type of partnership can help organizations fill skills gaps, manage cyber insurance, and stay secure.
What Does Managed Security Provide?
Not every business has the capacity and technical skills to address the changing exposure of its environment and compliance regulations. With the committed partnership of a MSSP, businesses have direct access to security experts who can support their security efforts.
An MSSP partnership can provide:
Vulnerability scanning: Vulnerabilities need to be proactively sought after and addressed before hackers can exploit them.
Vulnerability remediation: Any discovered or known security weaknesses or flaws must be remediated immediately.
Patching: The process of patching your toolset can be tedious and this is often required by various government regulations and industry standards. Further, it's important that processes are in place to ensure that each patch is completed successfully.
Managed defense tools: This proactive solution actively hunts for threats for immediate remediation to prevent threats from impacting your business.
Monitoring and alerting: Install, configure, manage, and alert on endpoints, applications, and dependencies. Leverage customer thresholds or automated dynamic (learned) performance and anomaly detection.
Optimization: Gather data on internal and cloud spend and understand optimizations to reduce reoccurring costs and improve ROI.
Incident response: Even the most robust defenses may fail and mitigating the damages of a successful cyber attack means responding fast. A proactive incident response strategy can reduce the impact of an attack.
Training & awareness: Human error continues to be a considerable weakness for businesses, especially as social engineering and ransomware attacks rise. Routine and thorough awareness campaigns and training sessions are critical in keeping your employees up to date.
For businesses considering outside expertise to help better secure their environment, a Managed Security Service Provider can add significant value.
Why You May Benefit from Working With a MSSP
Cyber security is a challenge for businesses due to its ongoing nature. Threats are constantly evolving, cyber security tools are changing to respond to these threats, and there are always new compliance regulations that could affect your industry and business.
Cyber security isn't a single box to be checked but a round-the-clock effort.
In addition to the talent shortage, here's how a MSSP can help address some of the most pressing challenges that businesses are facing:
Security tools are complex
Security tools are constantly changing to keep up with the evolving threats they're up against. These tools are often some of the most complex in the industry. The administrators of these tools need to both have the expertise to use them appropriately and have continuous, dedicated time to ensure the system is healthy and running appropriately.
These two parts must work together: both the tool and the administrator of the tool, to ensure success.
You may have the right tools in place, but without the right admin the investment in that tool could be wasted and you could still be at risk. Further, these tools can trigger a high volume of alerts. Your admin should be able to tune out the "noise" and appropriately prioritize and respond to these alerts.
Cyber insurance costs are rising
As cyber attacks increase, with ransomware specifically causing significant payouts, cyber insurers are tightening their belts. Insurance rates are rising, and the coverage limits are being reduced. Insurers are pushing businesses to harden their defenses. While there is no question that rates will continue to rise, businesses should aim to maintain their coverage limits where possible.
Recent changes in cyber insurance procedures have made the process of both getting coverage or renewing coverage arduous. Insurers require additional documentation and that extensive questionnaires be answered throughout the process that many businesses may struggle to provide.
In addition, this documentation could be audited in the future. If the documentation you provided is not correct or true (whether intentionally or unintentionally), your claim could be denied despite having an active insurance policy.
If your business lacks foundational security principles such as MFA and backups, your business could be denied coverage altogether. When you have a third-party contractual agreement with a cyber insurer, your business now has contractual obligations that must be followed.
Overall, your business must ensure you have the right skillsets available to protect your business and ensure you're responding appropriately to any rules and regulations.
Next Steps: Find the Right Expertise for Your Cyber Environment
Today, cyber security goes beyond a firewall or antivirus software. Your cyber security practices affect your organization as whole on many different levels.
At Arraya, our managed services team works closely with each customer to understand their industry and specific business needs. Our team members undergo a rigorous selection process to ensure every client receives the highest level of attention and service, which is why we're named on the CRN MSP 500 list year after year.
To learn more about our MSSP services, check out this recent episode of the Arraya Insights Podcast: Managing Cyber Security – When Does an MSSP Make Sense?
Visit https://www.arrayasolutions.com/contact-us/ to connect with our team now.    
Comment on this and all of our posts on: LinkedIn, Twitter and Facebook.    
Follow us to stay up to date on our industry insights and unique IT learning opportunities.