VMware Explore 2022 Announces the Latest Innovations for Workloads, Wherever They're Running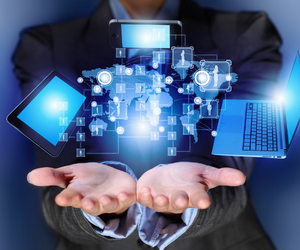 VMware Explore 2022 took place during the last week of August, offering new perspectives, experiences, and communities. Throughout the four-day conference, there were a number of important and exciting announcements made that highlighted breakthrough innovations that will help organizations better manage their workloads, no matter where they are running.  
In case you weren't able to attend, we've rounded up the announcements you don't want to miss.
Here's the latest from VMware Explore 2022:
Run, Manage, and Secure Enterprise Apps More Efficiently with the Release of VMware vSphere 8 & vSAN 8 
VMware's popular compute and storage solutions offer new innovations to further provide consistent infrastructure with value-added capabilities.
vSphere is VMware's enterprise workload platform. As multi-cloud becomes the dominant deployment model, many enterprises choose to run mission-critical workloads on-premises.
This most recent version of vSphere 8 will:
Supercharge workload performance
Lower TCO
Accelerate innovation for DevOps teams
Improve operational efficiency & IT productivity
Bring the benefits of the cloud to on-premises architecture
With the introduction of vSphere 8, the newer classes of hardware accelerators, like DPUs, are being brought in to offload and accelerate infrastructure functions, freeing up CPU cycles to run workloads. This will result in:
Up to 20% CPU cores saved while achieving similar or better performance
Up to 36% higher transaction rate at 27% lower latency
This will make the future of modern infrastructure accessible to all enterprises. vSphere on DPUs will unlock hardware innovation, helping customers meet the throughput and latency needs of modern distributed workloads. vSphere 8 will also drastically accelerate AI and machine learning and expand Kubernetes capabilities to include multi-availability zones for improved resilience.
vSAN is VMware's enterprise-class storage virtualization software that provides the easiest path to HCI and hybrid cloud.  
With the release of vSAN 8, customers can expect breakthrough performance and hyper-efficiency. This new release will showcase Express Storage Architecture (ESA) which will introduce a new log-structured file system, a write-optimized log-structured object manager, and a new object format.
These changes will lead to enhanced:
Performance
Storage
Efficiency
Data protection
Management
Resilience
Agility
Customers can expect up to 40% lower TCO and enhanced data compression with up to 4x greater efficiency. This latest innovation will help customers take advantage of the benefits of the latest generation of hardware to run mission-critical workloads at the highest level of performance and efficiency.
VMware Cloud Foundation+ Will Enable Greater Operation Efficiencies & Easier Management  
VMware's Cloud Foundation efficiently manages VM and container-based workloads with VMware's multi-cloud platform to deliver the benefits of the cloud to on-premises, full-stack HCI deployments.
This newest version of the cloud-connected architecture is built on vSphere+ and vSAN+ and will enable customers to gain greater operational efficiencies through easy management of VM and container-based enterprise workloads across hybrid and multi-cloud deployments.
This will streamline maintenance windows and provide immediate access to new features and cloud services.
VMware Cloud for Hyperscalers Provides New Capabilities for VMware on AWS to Accelerate Cloud Transformation  
The new capabilities in the jointly engineered VMware Cloud on AWS service and the broad availability of VMware Cross-Cloud services on AWS Marketplace help customers accelerate moving VMware workloads to AWS where they can take advantage of a more modern and secure infrastructure.
Once in the cloud, customers can expect significant savings by optimizing resource utilization, better workload availability, and better protection against today's threats.
These new capabilities will improve flexibility, performance, and ROI with 46% faster cloud migration and a 57% reduction in TCO.
Next Steps: Catch Up on the Industry's Go-To Event on All Things Multi-Cloud 
To dig even deeper into 2022's VMware Explore event, there are a number of resources available. With the VMware Explore Video Library, viewers can dive into over 100 on-demand technical sessions and session recordings from this year's event.
To learn more about vSphere 8, vSAN 8, VMware's Cloud Foundation, and more, contact an Arraya expert today to start a conversation.
Visit https://www.arrayasolutions.com/contact-us/ to connect with our team now.    
Comment on this and all of our posts on: LinkedIn, Twitter and Facebook.    
Follow us to stay up to date on our industry insights and unique IT learning opportunities.