Insights from Microsoft Ignite 2023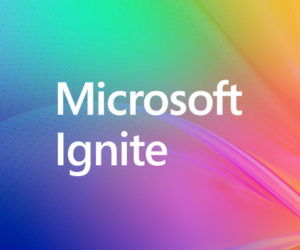 Last week's Microsoft Ignite event showcased the remarkable strides made in the integration of AI technologies across various industries.
For those who couldn't attend, this blog will summarize the key announcements that emerged from the event, focusing on advancements in AI and their impact on productivity tools, developer experiences, responsible AI deployment, and bolstering security measures.
Easy AI Integration for Developers
Microsoft continues to empower developers with expanded choice and flexibility in generative AI models. The introduction of Model-as-a-Service and Azure AI Studio streamlines the integration and deployment of AI models, making it easier for developers to customize and manage their applications. The availability of GPT-3.5 Turbo and the upcoming GPT-4 Turbo further extends the possibilities for developers, offering enhanced prompt length and control over generative AI applications.
Expanding the Use of Copilot
Microsoft Copilot, initially introduced eight months ago, has proven to be a game-changer in improving productivity. The expansion of Copilot offerings across various solutions aims to transform productivity and business processes for a wide range of roles and functions. From Microsoft Copilot for Microsoft 365, which is now generally available, to specialized Copilot solutions for service, Dynamics 365 Guides, and Azure, Microsoft is positioning Copilot as a versatile tool that goes beyond individual productivity, as a valuable asset for entire teams.
Improving the Relationship Between Data & AI
Recognizing the pivotal role of data in AI, Microsoft Fabric is an AI-powered platform that unifies data estates on an enterprise-grade foundation. This platform, integrated with Microsoft Copilot, facilitates a data culture that enhances the value creation of data throughout organizations.
Empowering the AI Shift in Windows
Microsoft introduced a new, AI-powered experience in Windows 11 and Windows 365. These enhancements aim to empower IT professionals, employees, and developers by making AI more accessible across devices. Windows AI Studio, alongside other productivity tools for developers, reinforces Microsoft's commitment to making Windows the preferred platform for AI development.
Using AI Responsibly
As part of Microsoft's commitment to responsible AI use, they are expanding the Copilot Copyright Commitment (CCC) to Azure OpenAI Service. emphasizes the company's dedication to defending and indemnifying customers. Azure AI Content Safety, now generally available, provides organizations with a built-in safety system to detect and mitigate harmful content, fostering better online experiences.
Azure AI Content Safety will also help organizations detect and mitigate harmful content as a built-in safety system within Azure OpenAI Service.
Continuing a Focus on Security
In response to the evolving threat landscape, Microsoft introduces new technologies in security solutions, combining Microsoft Sentinel and Microsoft Defender XDR to create the Unified Security Operations Platform. Embedded with Security Copilot experiences, this platform enhances threat protection and simplifies the complexity of security environments.
Next Steps: Is Your Organization AI-Ready?
Microsoft Ignite 2023 showcased the rapid changes the technology sector is experiencing with the advancements of AI. As we look ahead, these developments signal a new era of possibilities, where AI becomes an integral part of our daily work lives, driving productivity, efficiency, and innovation. However, with these developments in AI come more complex environments and new security threats.
Staying current with the latest technology is critical for organizations to maintain a competitive edge. However, it's imperative that these are implemented with the proper precautions.
Is your organization ready to unleash the power of AI and gain a competitive advantage? Contact one of our experts to get started today.
Connect with our team.
Comment on: LinkedIn, Twitter and Facebook.    
Follow us to stay up to date on our industry insights and unique IT learning opportunities.