Arraya Solutions Wins Marcum Innovator of the Year Award
October 30, 2015 – Arraya Solutions announced today it has won a 2015 Marcum Innovator of the Year Award from Marcum LLP and SmartCEO Magazine. These awards celebrate companies in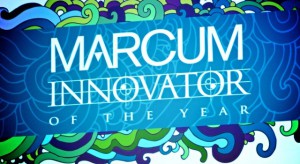 the Greater Philadelphia Area whose forward-thinking approaches are driving real, meaningful changes in their fields. Arraya won in the mid-sized to large company grouping of the Business Services category for its Mergers and Acquisitions in a Box solution.
"It is an honor to receive this award and be placed alongside so many extraordinary innovators in our area," said Arraya Solutions CTO David Bakker. "Innovation is something we've never shied away from at Arraya – just the opposite. We believe creative and outside-the-box thinking are in our very DNA as a company. This enables us to find solutions to customer challenges that others may miss."
"The Marcum Innovator Class of 2015 is an outstanding representation of the energy, creativity and drive that underpins the entrepreneurial economy in Philadelphia," said Jeffrey D. Zudeck, partner-in-charge of Marcum's Philadelphia region. "While the award-winners represent the best in class in their respective categories, collectively the nominees represent some of the brightest and most promising innovations in our region, and they all have great futures ahead of them."
Arraya's M&A in a Box solution distills the complex concepts behind executing mergers and acquisitions into an easy-to-follow, repeatable methodology. One which includes three stages: research and planning, paperwork execution, and post-transaction systems integration.
The awards were given to small and mid-to-large business in the following categories: Biotech/Healthcare, Business Services, Manufacturing, Real Estate and Technology. Arraya's CEO Daniel Lifshutz accepted the Business Services award at a gala event at The Fillmore Philadelphia on Tuesday night.
Judging criteria included multiple factors, such as the problem solved by the innovation, how the innovation helps differentiate each company in their market, the impact the innovation has had on the Philadelphia economy, and the kind of success or benefit produced in the marketplace as a result.
All winners will be profiled in the November/December issue of Philadelphia SmartCEO Magazine.
# # #
Media Contact:
Erin Steinmetz
Director, Marketing and Communications
610-684-8605, esteinmetz@arrayasolutions.com