Arraya Insights | February 24, 2022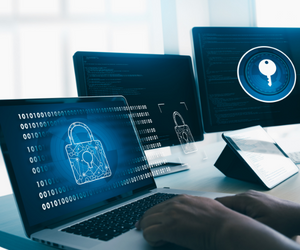 In today's threat landscape, cyber security must be a top priority for businesses and enterprises. Cyber attacks evolve just as rapidly as technology develops, meaning the security efforts never stop.
With so much sensitive information at stake for businesses, their clients, and their customers, regular security assessments are a necessary practice to identify potential vulnerabilities and strengthen security measures.
To ensure businesses are taking the proper precautions in handling sensitive information, there are growing standards and regulations that govern how companies can store, manage, transmit, and use data. Security assessments are used to monitor, test, and report on whether these regulations are being followed.
At Arraya, our cyber security team is often approached by businesses looking to complete a security assessment. They may be looking to satisfy compliance requirements, company standards, or security reporting, among other reasons. However, when these assessments are being used to simply check a box or satisfy a requirement, they're not being utilized for their full value.
The right assessments in the appropriate order are enormously helpful in improving a company's security position. In this blog, we'll outline the different types of security assessments available and how those assessments are best used.
Types of Security Assessments
Business Impact Assessment
In general, a Business Impact Assessment (BIA) is the first assessment that should be completed. This type of analysis "predicts the consequences of disruption of business function and process and gathers information needed to develop recovery strategies."
In short, this assessment allows a business to prioritize which functions are the most important and should be addressed first, should there a disaster. What impact would each function have if it was unavailable? What can't your business manage without? And how long can your business manage without them?
This gives your IT department a ranking of which systems to prioritize in a subsequent risk assessment.
Risk Assessment
Pinpointing the results from your BIA, a risk assessment analyzes how the identified risks are currently being handled within your organization. Are your current procedures compliant with all rules and regulations? Are these procedures being followed accurately? Do your procedures make sense or should these be adjusted to account for reality?
This type of assessment is often used to validate whether your company is in compliance with regulatory standards.
Penetration Test
This type of testing is also most valuable when conducted after a BIA.
Once your most critical systems are identified in the BIA, a penetration test (commonly referred to as a pen test), is an authorized simulated cyberattack on your network and computer systems that's completed to evaluate how effective your existing security methods are.
With a pen test, businesses can identify where and how they're most likely to fall victim to an attack and bolster their defenses, so they're prepared when a cyber attack comes along.
Tabletop Exercise
We all know that a plan in theory and a plan in action are two very different things. While a pen test evaluates the strength of your security systems, a tabletop exercise assesses the effectiveness of your current incident response plan.
If a system goes down, what is the order of your response and everyone's role in the plan? Is the plan followed accurately? Are your current methods effective? Until your business is faced with a cyber attack, you don't know how you're going to react. A tabletop exercise is not only a test of your incident response plan, but of your communication as an organization.  
With a tabletop workshop, your organization can spend a day working through your response to a cyber incident to determine your true level of preparedness.  
Next Steps: Get the Best Value from Your Assessments
Each of these assessments offer a constructive look into your business's cyber security standings. When used appropriately, they not only help you make informed decisions to protect your business from future attacks but ensure you're in compliance with all regulations and eligible for cyber insurance.
If your business needs a security assessment, contact an Arraya expert and we'll help you identify which assessments best fits your needs and when to conduct them. If you're already making the investment, make sure you're taking advantage of the full value.
Contact us today to learn more.
Visit https://www.arrayasolutions.com/contact-us/ to connect with our team now.    
Comment on this and all of our posts on: LinkedIn, Twitter and Facebook.    
Follow us to stay up to date on our industry insights and unique IT learning opportunities.