Digital Transformation and Azure
Last month was Microsoft's Worldwide Partner Conference. In case you missed Erin Steinmetz's newbie post, it was a great time and focused on more than just the latest technology. Under all the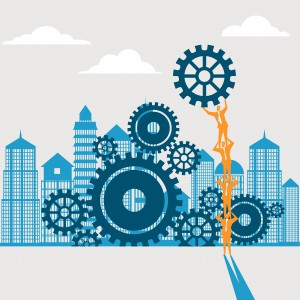 altruism and camaraderie, there was another message underpinning the conference and Microsoft believes it has the power to transform your business.
Digital Transformation was the biggest theme at WPC 2016. While this just seems like it might be the latest industry buzzword, it actually is one of the biggest differentiators between industry leaders and those just surviving or on their way out. So what is Digital Transformation?
In November 2015, IDC held a webcast called Futurescape: Worldwide CIO Agenda 2016 Predictions. In it, they posited that CIOs and IT organizations will be using technology as a differentiator in the marketplace. This new use of technology will drive IT and business budgets and priorities for the next few years.
Businesses are now getting to the point where IT will transition from a support organization into a business driver that provides actual value, instead of just keeping the lights on. Through this new use of technology, IT is now in control of the next evolution of business.
Consider this simple example of using technology to increase profit.
A farmer has all kinds of concerns – water consumption, soil quality, and seed distribution. Imagine what a farmer could do with data analytics on these items. He could intelligently plant more seeds where the soil is rich and less where the soil is poor. He can adjust his water usage accordingly and perhaps enjoy a much larger yield.
Let's take this example further. If we gave the farmer a tool like machine learning, he could automate the process further and add intelligence. Machine learning can help adjust water usage by being plugged in to local weather patterns. By monitoring the soil, it could check whether rain had actually come through or if the weatherman was wrong and make adjustments accordingly.
The cloud is what makes this technology both accessible and affordable to just about any business. The value you derive could be what pays for the solution. In some ways, the cloud has become the great equalizer, allowing the smallest business to compete in a global marketplace. By leveraging the cloud properly, you could discover new revenue streams, increase customer satisfaction, transform products and services, or develop process efficiencies and yield better results, as in the example of the farmer.
Preparing for your cloud journey
Arraya is working to bring this story of Digital Transformation to business through an engagement called Azure Ready. Over several days, we meet with multiple levels of your organization to uncover how you can leverage the cloud to enable Digital Transformation.
DISCOVERY — We begin with a focus on your business, specifically your product/service offerings, revenue goals, go-to-market strategies and competitors. This information helps us present use cases from customers with a similar digital footprint who have used Microsoft Azure to support their business objectives. From there, we explore the applications and services that your business relies on and use this information to build an interactive service map.
ANALYSIS — Using the service map as a guide, we dig deeper into those applications and services with business line owners. We target characteristics that are important to the business, including accessibility, security, integrity, elasticity and portability. This helps us develop a high-level services framework to correlate functional pain points with potential target workloads.
TRANSFORMATION — With application profiles in-hand, Arraya will present solution paths that business leaders and business line owners can incorporate into their strategic plans. We provide an executive summary of our findings that includes a list of target workloads, ROI, and any data we collected during the analysis. This information provides a foundation for developing a transition road map.
Through each stage, we hold sessions with executives, business unit owners, business application owners, and IT to have unique conversations around Digital Transformation. By the end of the engagement, we will deliver our results with recommendations to get you on the path to transforming your business.
Are you ready?