Arraya Solutions CTO David Bakker Speaks at ELFA Tech & Ops Conference
Arraya Solutions' CTO David Bakker presented at the annual Equipment Leasing & Finance Association Operations and Technology Conference & Exhibition on a number of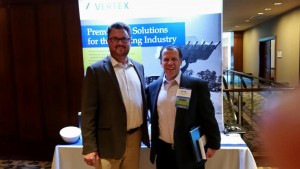 noteworthy IT topics, highlighted by a discussion of the hybrid cloud. The presentation – which was titled: "To Cloud or Not to Cloud: What is My Strategy?" – also featured Doug Cohen, the Senior Channel Manager for Vertex, Inc. It helped cap off the three-day ELFA conference which was held at the Hilton Philadelphia at Penn's Landing from Sept. 16-18.
ELFA's Ops & Tech Conference draws hundreds of attendees from financial services organizations and manufacturers representing America's $903 billion equipment finance sector. The conference is designed to guide and support member companies on using technology to improve internal processes and operations, leading to a more positive experience for their customers.
"It was an honor to be invited to speak at ELFA's conference," Bakker said. "In my 20-plus years in tech, I've never seen a shift in technology that's on the scale of the cloud. It holds tremendous value for companies and my hope is that this presentation inspires attendees to begin having real, meaningful conversations about the cloud if they weren't already."
The presentation took a high-level approach to the topic at hand, first giving attendees some essential background on cloud technologies, namely, what they are, what they can be used to do and why they're worth exploring. It also delved into the impact to date of the cloud on IT. From there, it touched on the advantages of molding private and public cloud environments together to form a hybrid cloud and the strategies and solutions which can be used to implement and support it.
Also covered in the presentation were some of the pitfalls companies can encounter on their cloud journeys – and how they can be addressed. These included concerns about keeping data secure in the cloud and how the cloud will affect the budget.
The conclusion of the discussion sought to fully dispel the myth that the cloud is mere hype through figures and statistics from the companies using it each and every day. These numbers also affirmed that the cloud can deliver an evolutionary experience.
"Today's reality is that my phone is my office. The cloud is chiefly responsible for that because it allows me to be productive no matter where I am or what time it is," Bakker explained. "Bringing that reality to your company isn't as difficult as it seems. Often, a large part of companies' cloud strategies have already been defined. Sometimes it just takes a little help to be able to recognize that fact and act on it."
If you're interested in learning more about the cloud, or would like to see this presentation live for yourself, please visit www.arrayasolutions.com/contact-us/ to schedule an appointment.