Connected Machines: 4 Ways Cisco Helps Boost OEE, Cut Downtime
Connected, intelligent machines are the future of manufacturing – and they're also very rapidly becoming its present. Word is out and more companies are realizing the inherent value in linking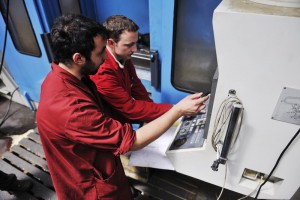 machines not only to internal networks, but back to the companies that initially built those machines.
Machine-builders have a unique insight into their product and it's something manufacturers need to use to their advantage. The connectivity offered by Internet of Things (IoT) technology gives companies a perfect opportunity to do just that.
The benefits of sharing data with the people who actually built a machine are two-fold. For the manufacturers using the machine, it allows them to catch problems before they occur and solve any that slip through that net more quickly. For machine-builders, they'll have the ability to provide a better customer experience – resulting in higher satisfaction scores – through the support models, security features and the after-sale services many manufacturers demand.
Moving to connected and intelligent machines
Ready to start enjoying those benefits at your facility? Cisco's Connected Machine Solution can help you get there. This solution is a digital portfolio built on renowned Cisco IoT technology that enables rapid, repeatable connectivity to machines.
The endpoint of this journey is clear: improved overall equipment effectiveness; optimized machines and processes; predictive maintenance capabilities and more. The steps along the way, however, are often less clear. Here's a closer look at the journey which takes machines from isolated to intelligent and connected:
Step 1: Machine Connectivity. This is the foundation on which the rest are built. It's dedicated to securing machines and optimizing their overall user experience. Organizations who've reached this point are able to enjoy rapid commissioning, secure machines and machine provisioning that is template-based.
Step 2: Machine Data Integration Platform. This step is all about analytics and intelligence. It builds on the machine connectivity attained in step one and expands that beyond the factory floor to the rest of the business. This level of connectivity allows manufacturers to start collecting and diving into the volumes of data churned up as a result of IoT technology.
Step 3: Machines as a Service. The next segment of the journey is centered on how forging tighter partnerships with machine-builders brings greater capabilities to manufacturers. Machine-builders become, in a sense, an extension of the manufacturer's organization. The Connected Machines platform feeds manufacturers and machine-builders real time data on factors such as asset health, availability and efficiency. As part of this, machine-builders can deliver predictive maintenance to their customers. They can continually optimize machines and, if a possible trouble spot is identified, they can inform their customer on the best way to remedy the situation, preventing costly downtime.
Step 4: Advanced Machine Optimization. This is the highest stage of the Connected Machines journey. At this point, manufacturers gain easy access to cutting-edge analytical capabilities powered by their highly intelligent networks.
Bringing Connected Machines to your facility
A recent survey of Plant Managers and Business Line Executives conducted by SCM World asked what technology they planned to connect in the coming years. Right at the top of that list? Production equipment. A little more than six-in-ten (62%) said this area would be a prime target for them. Manufacturers who haven't made plans to begin the Connected Machines journey run the risk of losing ground to competitors who have.
Arraya Solutions' Manufacturing/IoT Practice excels at bringing connectivity to manufacturers. Our team members can help with every step of the process – from planning and designing the right solution for your company, through deployment. Once that solution has been deployed, we're also capable of providing long term support, ensuring full return on investment.
Have a question? Feel free to reach out to us at www.arrayasolutions.com/contact-us/. We can also be reached directly via our Twitter account, @ArrayaSolutions, which also features the latest company news, our take on industry hot-buttons and links to special offers.