5 Ways Cisco Unified CCX Boosts Customer Retention Efforts
Sometimes the shortest path from customer to ex-customer runs through a business' call center. No matter if they're calling for support, additional info, or some other need, a bad call center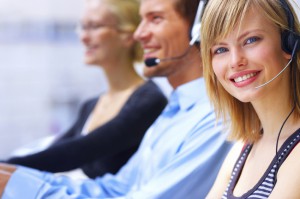 experience can inspire a customer to consider other options. The opposite is also true – positive call center experiences can be vital to keeping customers in the fold.
How vital? Consider these findings from Deloitte's 2015 Global Contact Center Survey:
85% of survey respondents see customer experience as a competitive differentiator (up from 62% in 2013)
50% of respondents feel that call centers play a primary role in customer retention
43% of respondents say their call centers play a secondary role in customer retention
only 7% say call centers play no role in retaining customers
The consensus is clear: Businesses believe contact centers hold tremendous sway over customer behavior. In response to that growing value, 96% of organizations surveyed by Deloitte expect to expand their call centers in the next two years.
Better customer service through Unified CCX
Businesses mustn't only focus on the size of teams or facilities when they consider call center expansions. Today's customers – much like today's employees – demand flexibility and speed. In order to build stronger, longer-lasting relationships with customers, businesses need to take those demands into consideration and grow and evolve their call centers accordingly.
Cisco Unified Contact Center Express (Unified CCX) can address those needs, bettering customer relationships by transforming call centers into powerful omni-channel contact centers. Here are five examples of how it does that:
Computer-telephony integration – Unified CCX features Cisco's Finesse, a desktop solution capable of streamlining the flow of information to ensure agents have access to what they need to better serve customers. Finesse can be used as a jumping off point for CRM integration, allowing for advanced features such as relaying applicable customer information to agents via pop ups. These alerts can include information such as recent purchases, applicable special offers, etc.
Video-driven customer service – The inclusion of Cisco's Jabber Guest puts customers face-to-face with customer service agents. This feature builds lasting relationships by enabling contact centers to deliver a more personal brand of service than they ever could before. Beyond the ability to put faces to names, video support allows customers and agents to see what the other sees, cutting down on confusion and allowing for faster, more satisfying service experiences.
Self-service functionality – Unified CCX gives customers multiple self-service features, including interactive voice response, dual-tone multifrequency processing, and automatic speech recognition. These tools allow customers to take greater control over their service experience. Should support personnel involvement be required, self-service features can still help better focus call routing, leading to shorter call times.
Next-generation reporting – Cisco's Unified Intelligence Center gives contact centers access to historical and real-time reports and dashboards. These are available out-of-the-box, but users can also design custom reports based on their organization's needs. This up-to-the-minute access to end-to-end metrics and trends allows contact centers to know where they stand in terms of performance and where adjustments can be made.
Social media monitoring – Cisco's SocialMiner is a standalone option available with Unified CCX which helps businesses stay on top of customer interactions conducted through social media channels. Lacking an appropriate or timely response on social media can be a black eye for modern businesses. SocialMiner lets organizations easily locate customer queries or complaints, respond in real time, and track these interactions with detailed metrics and reports.
Bring Cisco's Unified CCX home
Want to learn more about Unified CCX? Visit http://www.arrayasolutions.com/contact-us/ to begin a dialogue with our team of Cisco experts. All told, our team has decades of experience supporting every facet of the Cisco solution stack, including with assisting businesses on their journey from limited call centers into fully-realized, omni-channel contact centers.
Our team can also be reached via social media: Twitter, LinkedIn, and Facebook.