Recapping 2016: Arraya Looks Back at the Year in IT
From the rise of ransomware to the persistence of meddlesome and destructive hackers, the IT world made plenty of headlines in 2016 – and the Arraya Solutions team had front row seats through it all. We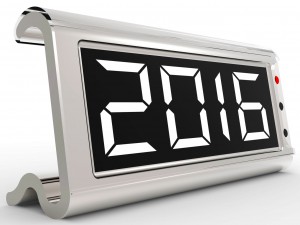 decided to ask the members of our technical practice areas and our Managed Services team for their takes on the biggest stories from 2016. Here's what they had to say:
Matthew Sekol, Microsoft Practice Manager
The biggest story from Microsoft in 2016 is Digital Transformation. Azure has become more than just a platform to do cool things, it (and Office 365) drive Digital Transformation. Before you think this is just the next latest buzzword, it really isn't. We're at an inflection point past the cloud now where the companies that survive are the ones innovating and differentiating themselves with technology. This will be the defining business movement for the next decade.
Jason Kline, Microsoft Cloud Solutions Architect
The biggest story out of Microsoft in 2016 was their investment and improvement in security offerings. In what felt like overnight, Microsoft became a major security player. This in large part is because of a changing digital landscape where identity has become the new security perimeter. Who better to help us protect ourselves than a company fielding billions of authentications a day and delivering security centered around what they learned from that experience?
Thomas York, Director, Delivery and Project Management 
Our Managed Services team saw a massive uptick in managed network (security) opportunities. It was obviously top of mind for many of our customers and prospects during the past year.
Kevin Taggart, Team Lead, Network Services
One of the biggest stories to come out of 2016 in my focus area was Cisco AMP for Endpoints, which is an anti-malware client that can replace conventional AV. Another key development was Cisco's Defense Orchestrator, which is designed to make it easier to manage security policies across Cisco security tools.
Ron Longley, Data Management Practice Manager
I think the merger of Dell and EMC was the biggest Data Management story of 2016. While we're still waiting to feel the full impact of this move at Arraya, the early returns have been positive, including the introduction of several new options to VxRail 4.0, the newest version of EMC's hyperconverged solution. Long term, it's certainly exciting to see the portfolio growth this union will spur as well as the innovation it drives.
Robert Whann, Director, Managed Services Operations
The biggest development in 2016, not surprisingly, was the push to leverage Managed Services for two of IT's biggest focus areas: security and cloud management.
Rajasekar Shanmugam, Team Lead, Network Services
Cloud is the way of the future and the present. Transitioning to the cloud is critical for companies large and small. But not every company is ready to move everyone and everything to the cloud. We want customers to transition to the cloud when and how it makes sense. The Cisco Spark Flex Plan helps us do that. In a single contract, the Cisco Spark Flex Plan lets you choose cloud, on-premises based services, or a little of both. Change your mix at any time; the price stays the same.
For meetings, choose from cloud-based Cisco Spark Meetings, WebEx, or the recently announced on-premises Cisco Meeting Server.
For calls, choose either Cisco Spark call or a Cisco Unified Communications Manager-based option.
Ryan Benner, Vice President, Enterprise Infrastructure
I'd say the biggest technology story of 2016 was the Dell and EMC merger. We've never seen an acquisition of that size before and the end result is a true tech behemoth. The implications of this move remain up in the air, but without a doubt, the impact is going to be far-reaching.
Halim Chtourou, Team Lead, Virtualization
From a product standpoint, VMware's biggest releases in 2016 included Horizon 7, vSphere 6.5, AirWatch 9.0 and the continued evolution of their Workspace ONE platform. The Horizon platform saw the release of Horizon Air Hybrid Mode – for the management of on-prem desktops and apps through a lone cloud control pane  – and the Blast Extreme Protocol, for an improved user experience. AirWatch 9.0 added unified endpoint management, including support for Windows 10 devices, as well as support for management of wearable devices including augmented reality and virtual reality glasses, sure to be big hits in manufacturing, education, healthcare and other environments. For a roundup on what was new in vSphere 6.5, click here.
Jeremy Rupczyk, Senior Solutions Engineer
The release of Instant Clones definitely was one of the biggest VMware stories in 2016. This feature allows admins to deploy thousands of virtual machines (VMs) in minutes, whereas it could take hours previously. Besides the time-savings, it takes workloads off of vCenter, enabling faster and more efficient VMs.
Also, the introduction of Workspace ONE is worth talking about in the context of last year's top VMware stories. This solution blends Identity Manager and AirWatch Enterprise Mobility Management to provide employees with secure access to the apps and data they need, from wherever they are, on any device.
Have more to say about the year in tech?
Have any questions about our top takeaways from 2016? Have a few of your own you'd like to share? Our team can be reached at www.arrayasolutions.com/contact-us/. They can also be reached through our social media presence: Twitter, LinkedIn, and Facebook. Be sure to follow us for all of our latest blogs as well as alerts about upcoming special events.