Recapping Day 1 of VMworld
Thousands of attendees from around the world converged on Las Vegas yesterday to kick off VMworld 2016. Taking center stage during the company's annual four-day conference will be its latest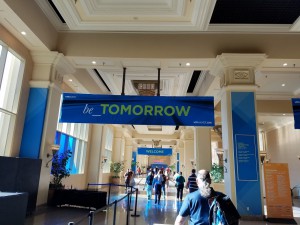 virtualization and cloud innovations.
Unable to make it to this year's event? Arraya has you covered. A member of our virtualization practice will be onsite throughout the conference to provide firsthand coverage of everything new and notable taking place at VMworld 2016.
The highlights from Day 1 included:
Looking at the trends affecting today's IT pros
Transformation was at the forefront of the address by VMware's CEO Pat Gelsinger. Digital transformation in particular has become one of the hottest things going in IT as of late. However, this is no mere buzzword. It's a trend which, if properly applied, can have a profound effect on the present and future for businesses, rivaling even the Industrial Revolution in terms of transformational impact.
Gelsinger stressed that the foundation of digital transformation is the cloud, technology which is only going to become more important in the years to come. He predicted that by 2021, 50% of workloads will be in clouds, with 30% in public clouds, and 20% in private clouds. He went on to state that by 2030, 52% of workloads will be in public clouds alone.
Other trends IT will want to keep an eye on:
The growth of Internet of Things (IoT) – Gelsinger noted there could be more IoT devices connected to the Internet than human devices by Q1 of 2019. Instead of shrinking IT size, Gelsinger believes this will allow IT to expand due to the efficiency of cloud technology.
Shadow IT isn't going anywhere – The cloud has made it considerably easier for everyone, including folks outside of IT, to invest in technology resources, resulting in so-called "shadow IT." The overall motivations – users want to choose their services; IT desires greater control to ensure security – will not change. As such, organizations will have to find a way to address this "control vs. freedom" debate.
Virtualization growth explodes – During his presentation, Gelsinger pointed out that roughly 80% of compute workloads are now virtualized. Software-defined solutions NSX and VSAN are growing at a remarkable 400% adoption rate, rivaling the growth of server virtualization from a decade ago. He believes NSX and VSAN will continue to bring the OPEX and CAPEX advantages realized by server virtualization over to networking and storage.
Breaking news at VMworld 2016
Several key announcements also helped to set the tone for Day 1 of VMworld. Some of the biggest include:
The availability of zero downtime migration to vCloud Air.
Cross-Cloud Architecture – Provides freedom and control across different clouds. Two major components of this are the VMware Cloud Foundation and Cross-Cloud Services.

VMware Cloud Foundation – This takes SDDC components and combines them with the new Automated Lifecycle Manager, making private clouds easy to deploy and maintain.

IBM is the first partner for VMware Cloud Foundation
This makes the VMware SDDC available as a service

Cross-Cloud Services – This includes new SaaS-based offerings for private and public clouds including Azure, AWS, and Google. Cross-Cloud Services gives IT a new set of tools to manage workloads across different clouds, creating a layer that can span across public and private clouds.

Networking and Security configurations can be synchronized across multiple public and private clouds
Workloads can be replicated and moved between clouds as well
See what VMware and Arraya can do for your business
Have a question about the latest news and offerings from VMware? The members of our virtualization practice stand ready to help. To start a conversation, visit us at www.arrayasolutions.com/contact-us/ or reach out to us on social media at: Twitter, LinkedIn, and Facebook.