The Power of Partnership: Lessons Learned as a Newbie at Microsoft's WPC 2016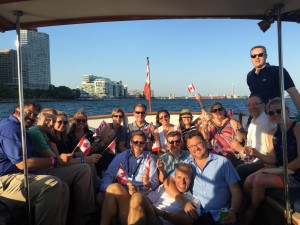 I was lucky enough to attend Microsoft's Worldwide Partner Conference for the first time last week in Toronto. I went into the week with all of my sessions and meetings planned out – ready to see, do and absorb as much as possible during the four-day span. I was expecting days filled with product and positioning discussions, the unveiling of new features and solutions, and – being on the marketing side of the house – tips and tricks to make Arraya stand out and take our Microsoft Practice to the next level. Most of those tried and true aspects of a partner conference were there, along with energetic keynote presentations, gratitude for the partner community, and even Gwen Stefani. But, in addition to my pics of Gwen and a free t-shirt, I walked away with a little something extra.
Woven throughout the entire conference were stories of how Microsoft and its partner community have made a real impact on people and entire communities – changing lives and working towards making the world a better place. Microsoft's mission was front and center in every session I attended: To empower every person and every organization on the planet to achieve more.
The conference opened with the moving story of Ariela Suster, Founder and Creative Director of Sequence, a company which employs at-risk youth who create handcrafted products as a positive alternative to a perpetual cycle of violence in El Salvador. The company's latest collection features a bracelet designed on a Microsoft Surface, which includes a chip that, when tapped against the back of your smartphone, will play a video showing how the bracelet was made. Suster also described the company's utilization of Skype for Business as a means to communicate with employees who cannot travel to Sequence headquarters due to gang violence.
During the North American regional breakout session, Judson Althoff, Microsoft's Executive Vice President, Worldwide Commercial Business, featured a series of customer and partner demos, many of which illustrated how the power of partnership and Microsoft technologies were being put to use for the greater good. The concluding segment featured Lianna McDonald, Executive Director of the Canadian Centre for Child Protection. McDonald told poignant stories of the organization's mission to help Canada's missing children and described how children's lives are being saved by the digital connections supported through Azure. At the end, she took a seemingly unplanned and emotional moment to express sincere gratitude to Microsoft for their work and impact on the organization – leaving Althoff, and most of the audience, moved to tears.
On day 3 of the conference, we were introduced to the world of Saqib Shaikh, an engineer at Microsoft, who has developed technology to help compensate for the sight he lost at a very young age. He is helping to build Seeing AI, a research project that helps people who are visually impaired or blind to better understand who and what is around them. The project is built using intelligence APIs from Microsoft Cognitive Services. Seeing AI is essentially a virtual assistant that aids the visually impaired by narrating the world around them.
These are only a snapshot of the myriad of examples of innovation and positivity that were scattered throughout the conference. During a time when it seems we are bombarded every day with tragedy and negativity, it was both uplifting and motivating to hear stories of hope and progress.
At Arraya, we believe making a difference through giving back is extremely important and we have experienced the power of partnership in helping the community firsthand. Arraya has a close relationship with a non-profit school in Pennsylvania benefiting children and young adults who have been diagnosed with autism. The school's primary purpose is to help its students develop the knowledge, life skills and support structures they need to be successful. By working closely with Microsoft, Arraya secured Microsoft E3 licenses for the school to facilitate its journey to Office 365, in order to modernize its communication methods and foster a greater sense of shared community. Arraya's engineers will help deploy Office 365, adjust the solution to meet the school's needs, perform any necessary migrations, and provide long-term technical support. Arraya has a long history of supporting this school's mission and saw Office 365 E3 licenses as a game-changing solution that could make a difference in the lives of the school's students, families, and team. This technology will be instrumental in allowing the school to more fully realize its goal of putting students on the road to life-long success.
Being a newbie to Microsoft's WPC, I don't have years of experience at the event for comparison. From what I gather, the humanization of the conference this year was a departure from the norm, but it is one I welcome. It is easy to get swept up in the hustle of day-to-day work or bogged down by the negativity and all-too-often tragedies of the world we now live in. I am grateful for the reminder that the technology we work with every day and the partnerships we foster can truly have a positive impact. I'm already looking forward to WPC 2017!