7th Annual Arraya Solutions Open House Recap
Last week, Arraya Solutions welcomed customers and partners alike to our headquarters in Plymouth Meeting, PA for our seventh Open House and Technology Day – an event packed with good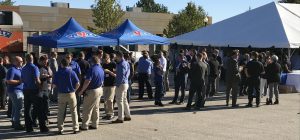 food and better conversations. This annual tradition has grown steadily over the company's history, with this year's event featuring our largest crowd yet. That notion of growth and evolution is something that was palpable throughout the day.
"Just as our Open House has changed over the years, so too has the IT industry," Arraya CEO Daniel Lifshutz said during his opening remarks. He went on to reflect upon some of the more prominent changes that have swept the industry and how Arraya has worked to keep pace.
"When things like security, for example, went from the backburner to mission critical, Arraya was there with our Cyber Security practice to help our customers protect themselves," Lifshutz explained. "Likewise when IT teams were expected to do a lot more with a lot less, we bolstered what we can do with our Managed Services."
In terms of the evolution of the Open House itself, this year's event featured several firsts. Perhaps the most noticeable change was the inclusion of a virtual reality experience. As part of this, attendees were able to strap on a pair of Oculus goggles and step in to a variety of virtual environments. One of the more popular options involved enduring the hairpin turns and stomach-churning drops of a thrilling roller coaster ride – all from the safety of Arraya HQ, of course.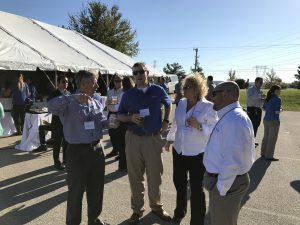 Another first for the Open House was a reimagined, visually oriented cyber security survey. While surveys themselves certainly aren't unheard of at Arraya events, the execution of this one was unique. At check-in, attendees were given a ping-pong ball marked with a number and asked to drop it in the tube marked with the security issue they struggle with most. One number was then randomly drawn from those who participated in the survey, with the winner receiving a pair of tickets to an upcoming Philadelphia 76ers game. The results of the survey will be published in a future blog; however, the drawing winner was Chris Kohl, Vice President & CIO of Vertex, Inc.
The day's other big giveaway carried on the theme of virtual reality. Attendees who tweeted out a photo from the event and tagged it #ArrayaOpenHouse were entered to win their own pair of Oculus goggles. Attendees were all too happy to contribute to the visual record of the day, and it was Vince Strausser, Network Engineer for Einstein Healthcare Network, who had his name drawn.
Victory's Brew Pub on Wheels wasn't new to attendees who'd joined us for past Arraya Open Houses, but it made its triumphant return this year. The iconic Downingtown, PA-based brewery once again delighted attendees with an array of distinctive craft beers and dining options.
Even with all of these other elements, relationships remained the day's primary focus. Lifshutz thanked those in attendance, saying: "The reason we do this event every year is to get all of the people together who make it possible for Arraya to do what we do and who give us a chance to do what we love. (Arraya CTO) David Bakker and I want to offer our sincere thanks to all of you: our employees, our partners, and of course our customers.
"The commitment that we're making is that we're always going to be on the forefront," he vowed. "We're always going to be there for you and be on the cutting edge, helping both our customers and our technology partners get their stories told."