Should Azure Stack Be On Your Radar? 5 Use Cases
There are few organizations whose futures will rest entirely in the cloud. Instead, most will undertake migrations on a case-by-case basis, resulting in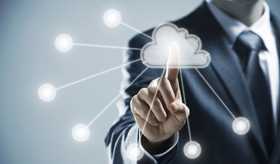 a hybrid cloud environment. Workloads will be assessed based on individual need and industry regulations then, depending on the findings, they will either be transferred into the cloud or stored in an on-premises data center. Standing at the forefront of this approach is Microsoft's Azure Stack, a hybrid platform that balances powerful onsite hardware with the reach and scalability of the cloud.
As the name indicates, the cloud component comes from Microsoft's Azure, while there are several options for the hardware portion. Earlier this summer, we helped introduce one iteration, Dell EMC Cloud for Azure Stack. This solution couples Dell EMC's PowerEdge servers with Azure to provide an on-premises infrastructure and platform-as-a-service solution. Additional supported hardware options, including HPE and Lenovo, are set to ship in September with future offerings from Cisco and Huawei coming in the months to follow. With this approach, customers can pick their vendor and capacity and, just like that, have a quick and efficient path to the hybrid cloud.
Is hybrid something your organization should consider adopting? Let's take a closer look at some of the use cases for Azure Stack to see if it might make sense for you.
Bringing automation and cloud efficiencies to your data center. The cloud is built on efficiency and ease of use. For IT, that means quick turnarounds, automation and less red tape. For the business, it means unleashing the true speed of technology. With Azure Stack, IT can start building out cloud based optimizations on-premises, ultimately streamlining the variations across on-premises data centers and greatly reducing the costs of IT operations.
Businesses relying on the network edge. Azure Stack processes data in-house before looping in the cloud for additional analytical and workflow sharing. This process drives better decision-making and greater consistency for networks where a heavy burden is placed on the edge. This includes manufacturers whose shop floors are becoming home to an ever-increasing number of automated or connected devices but where Internet access may not always be guaranteed.
Situations where time is of the essence. In much the same way that it can boost connectivity, Azure Stack can also reduce latency. By doing so, it can significantly speed up response and processing time. This can be a differentiator in industries such as Financial Services, especially for organizations involved in executing trades, where success is often measured in fractions of seconds.
Organizations bound by strict industry regulations. Whether a modern application is developed, deployed, and housed on-premises or in the cloud, the code that comprises it doesn't change with Azure Stack. As such, these applications can be moved from one spot to the other or live in both spaces without requiring additional development work. This can add much-needed flexibility for organizations as they navigate strict, industry-specific regulations concerning the cloud.
When legacy apps remain critical to success. Some apps may not be ready for a life in the cloud, but that doesn't mean an organization is ready to press forward without them either. Azure Stack can provide the development platform upon which this transition can begin to take shape. It allows modern front ends to be added to the systems supporting these legacy apps and local development, gradually bringing them closer to their ultimate destination. Once development is complete, legacy apps will be prepared to run onsite, in the cloud, or both.
Don't dive into Azure Stack alone
These are just some of the use cases in which Azure Stack looks to make a difference. Do any of them line up with your organization's needs? Want to talk more about how else it might fit with your IT strategy? Arraya Solutions is ready to work with you to analyze your environment and goals in order to determine if Azure Stack dovetails with your IT strategy.
Our team stands ready to answer any of your questions regarding this solution. Start a dialogue today by visiting us online at www.arrayasolutions.com/contact-us/. Or, leave us a comment on this post through our social media presence. Check Arraya out on LinkedIn, Twitter, and Facebook. While you're there, be sure to follow us to stay updated on our latest industry insights, exclusive learning opportunities, and company news.