Dell Technologies World 2018 Recap: 4 Need-to-Know Stories
Dell Technologies World 2018 took place in Las Vegas earlier this month and Arraya was there to take in the sights and sounds. Our team returned to Arraya HQ with plenty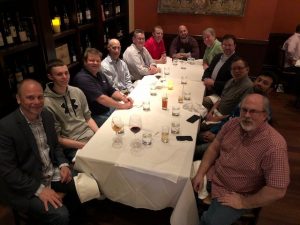 of insights regarding what's here and what's coming next from the Dell Technologies family, including our strategic partners Dell EMC and VMware.
Here's a recap of the biggest data center stories they encountered during their stay in the desert – and what they could mean for you.
Introducing the latest PowerEdge Servers
Dell Technologies pulled the tarp off a pair of new additions to its PowerEdge server line – the R840 and the R940xa. There's plenty of alphabet soup to explain the possible impact of these servers. Example: R940xa promises a 1:1 CPU to GPU ratio while the R840 can support up to 24 direct-attach NVMe drives.
More simply, the R940xa and the R840 are each meant for a specific use case. The R940xa can handle graphics and compute-heavy workloads, enabling real time, GPU-related decision-making. Meanwhile, the R840 supports faster, more capable analytics and machine-learning workloads. If either of those scenarios sounds like your data center, these servers could make sense for you.
The R940xa and the R840 both hit the market on May 22.
Enhancing the onramp to SDDC
Much of the Dell Technologies World news fits the bill of "revolutionary." Others are more "evolutionary." The changes announced to VxRail and VxRack fit into that latter category but are no less meaningful because of it. By making these adjustments to its line of hyperconverged infrastructure solutions, Dell EMC is providing customers a robust and modern architecture around which to construct their software-defined data center (SDDC).
Perhaps the most noteworthy element of the latest VxRack is its support of the 14th generation of Dell EMC PowerEdge servers. This type of compatibility has existed for some time for organizations looking to build and maintain their own data center environment by way of vSphere or VSAN ReadyNodes. However, this marks the first time that this server family will be available through VxRack configurations. Co-developed with VMware, these technologies mark a fast, reliable route for those who want to create a multi-cloud or SDDC environment.
VxRack SDDC also includes the following developments:
Enhanced configurations with the availability of 14th Generation PowerEdge Servers
VDI enhancements via support for NVIDIA GPUs
IT-as-a-Service (IaaS) capabilities leveraging the latest VMware Cloud Foundation release
Meanwhile, VxRail nodes, leveraging Dell's 14G PowerEdge Servers, now include support for the following:
NVMe cache devices – think higher performance and lower latency than SAS cache devices
Increased memory – up to 3 TB per node
NVIDIA Tesla P40 GPUs – 2x performance and 50% increased user support for high-end end0user compute use cases
The latest versions of Dell EMC VxRail and VxRack appliances are available now.
Redefining and renaming VMAX
VMAX, Dell EMC's enterprise-grade, all-flash storage system, has undergone quite the transformation of late, including leaving Dell Technologies World with a new name: PowerMax. Dell EMC has redesigned PowerMax to make it the fastest storage solution on the market. PowerMax's blazing speed stems from its ability for total NVMe device support end-to-end. Architected with full NVMe support leveraging NVMe-over-Fabrics, PowerMax can realize end-to-end NVMe support within a data center. This should prove appealing to enterprises continuing to leverage external storage arrays that need very-high performance and very-low latency levels.
Additionally, PowerMax can support organizations transitioning into more cutting edge, and workload-intensive, disciplines. This includes real-time analytics, IoT, and artificial intelligence. Another buzzy technology with ties to PowerMax is machine learning. The system uses years of data on VMAX performance and lifespans and internal data to boost efficiency and health.
Organizations who see themselves benefitting from this reboot won't have to wait long. PowerMax arrays are ready to begin shipping ASAP.
Bringing XtremIO to a whole new world
While the latest XtremIO, X2, has been available for almost a year, significant news broke at Dell Technologies World. The newest version of X2 will support native replication with other X2 arrays. Previous generations of XtremIO leveraged RecoverPoint technology to perform data replication. However, the trend both internally at Dell EMC and among its competitors has been to deliver these capabilities natively. Dell EMC's own Unity and PowerMax offerings sport this ability, and now the X2 does the same. For customers whose use cases align with what the X2 offers, native replication means one less technology to buy and manage. Reducing environmental complexities and spend are universally appealing upsides.
Furthermore, the entire XtremIO family to date has fallen into the category of enterprise grade storage. That could be starting to change after Dell Technologies World. During the event, it was announced that Dell EMC would offer a new X2 model with the same feature set at a much lower price point, giving an enterprise-grade solution a midmarket budgetary entry point. This can allow growth-focused organizations to invest in a proven storage solution ready to mature alongside their data center.
Next steps: Learn more about the news from Dell Technologies World 2018
Want to learn more about these or any of the other announcements made at this year's Dell Technologies World? Visit: https://www.arrayasolutions.com/contact-us/. Our experts can help your team determine how these solutions fit into the present – and future – of your data center.
As always, leave us a comment on this or any of our blogs by checking us out on social media. We can be found on LinkedIn, Twitter, and Facebook. Let us know what you think of this post and follow us to stay updated on our industry insights and exclusive IT learning opportunities.