Recapping Arraya's 8th Annual Open House
Last week, Arraya opened our doors to technologists from across the mid-Atlantic region, welcoming them to our 8th Annual Open House and Technology Day. Just as in past years, Arraya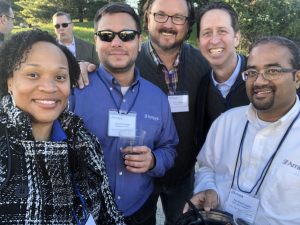 transformed our corporate headquarters into a fall paradise, complete with great food, drinks, games, and a few surprises. While Arraya events typically put technology first, the Open House has always been a bit of an outlier. Even as technology demos unfolded on multiple television screens, the day's core focus was on celebrating the relationships that have helped Arraya grow into one of the top providers of IT and Managed Services in our area.
During his opening remarks, Arraya CEO Daniel Lifshutz reflected on the importance of the relationships Arraya has built over our nearly twenty year history. "Now, we know we're not the only technology company in the metro Philadelphia area," Lifshutz said. "We believe we're the best, of course, but we know we're not the only one. We take it very seriously that our customers have entrusted us with their technology environments and that motivates us to go the extra mile and to keep looking for new ways to help them succeed."
Lifshutz also thanked Arraya's vendor partners. Many of those organizations have worked with the company since our early days. "Without our vendor  partnerships, it would be very hard for us to do all of the things we do."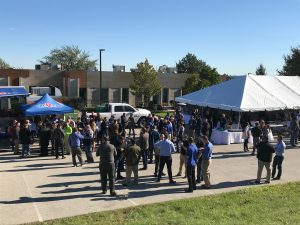 Despite Arraya's passion for the future of technology, one source of entertainment for the day had a happily retro feel. Scattered throughout the massive tent housing the Open House were classic arcade games, including Space Invaders and Off Road Challenge. Other low-tech favorites, like Pop Shot, also drew in those eager for some old school competition.
Stepping outside of the arcade, Caricatures By Courtney also proved to be a popular addition to our Open House. Attendees could sit down for a professional caricature drawn using a unique digital set up. They received a print version and an online copy so they could easily show off their likenesses on social media.
Once again, the Victory Brew Pub on Wheels joined us for the Open House. Representatives from Victory dispensed a variety of great beers brewed just down the road in Downingtown, PA. Victory also brought with them a buffet of barbecue favorites, complementing the variety of other dishes already available to attendees.
Arraya's 8th Annual Open House and Technology Day would not be complete without the technology element. Throughout the event, attendees were able to visit with our event sponsors, including Cisco, Dell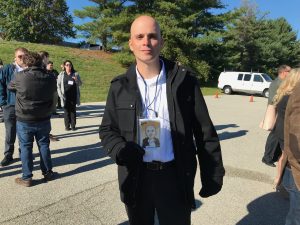 EMC, Microsoft,VMware, and Cohesity. This enabled them to talk about what's new and what's coming next with representatives from the industry's leading technology vendors. As mentioned earlier, they could also further their knowledge with the help of recorded demos playing on screens around the event space.
First and foremost, the day really was all about relationships. As Lifshutz said during his welcome address: "We really appreciate the support that our customers and partners give us. We can't do events like this and we can't be Arraya without you. We'll see you next year for our twentieth corporate anniversary which is going to be even bigger and better."