Changes are Coming to Webex Meetings: Preparing Users for Version 40.9
Heads up: The Webex Meetings experience is about to change this September with the release of Webex version 40.9. Despite being designed to improve the user experience, this update – as updates so often do – is bound to elicit its fair share of grumbles, at least initially. Change, after all, even when it's for the better, has a way of inspiring calls to the help desk.
With the 40.9 update a mere weeks away, our Collaboration team wanted to give you chance to get out ahead of the consternation and maybe even help users make a smooth (or at least smoother) transition into the new version. Here's a look at what you and your team can expect from Webex Meetings version 40.9 before it hits laptop screens next month, complete with images pulled from Cisco's website.
Icons are out. Icons + text are in
In its present form, Webex Meetings uses onscreen icons to help users control their meeting experience. So, if a user wanted to, say, mute (or un-mute), record the meeting, share their screen, send a message, whatever – they would need to click on the appropriate icon (a microphone, a box with an arrow, a red dot inside another circle, a speech bubble). These are all housed in a row near the bottom of the meeting window. While the location of these buttons won't change much, their appearance will.
The icon-only set up proved less-than-intuitive for some users, so Cisco has chosen to augment that by adding text back into the mix in the form of identifying labels like "Mute," "Share," "Record," "Chat," etc. As mentioned above, buttons can be found in more or less the same spots. However, unsuspecting users still might be thrown for a loop by the revised look, making a heads-up worthwhile.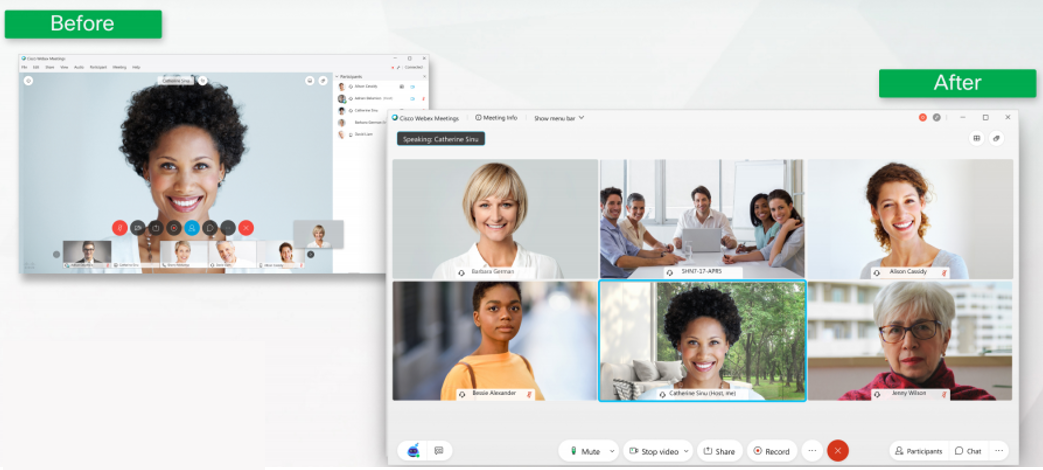 Drop-down meeting controls
On the subject of meeting controls, many of these revised buttons will be able to provide additional context and assistance with the release of version 40.9. With this new update, Cisco will add enhanced drop down menus to many of its meeting control buttons. Attendees will be able to use this to easily refine their meeting experience from one centralized spot.
Let's start by looking at the "Mute" button. In earlier releases, this would simply toggle on and off a user's microphone. This core functionality obviously carries over into 40.9, however the new version goes several steps further. Instead of simply turning their microphone on and off, users will have full control over their audio meeting experience from this one spot. They'll be able to choose their microphone, speakers and even pivot to a completely different audio alignment. The same is true of the "Stop Video" button. In addition to turning on and off a camera, this icon now includes a drop down that lets users change their backgrounds, select new video inputs, and more.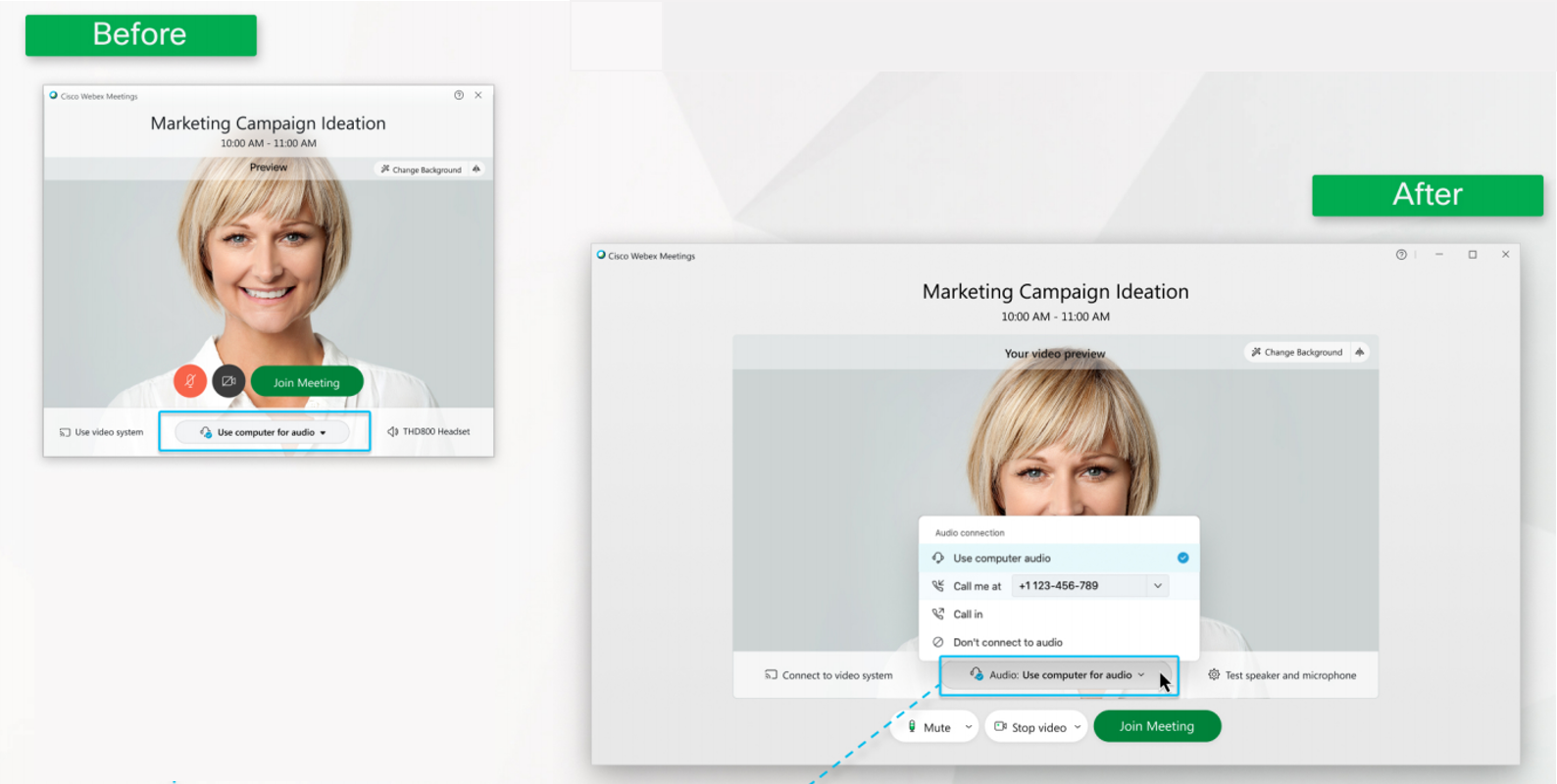 Upfront audio and video controls
"You're on mute." "We can't see you." Chances are, you've probably heard both of those phrases (or a variation of them) more than you'd care to over the last few months. Our increased dependence on remote collaboration has led to an incredible spike in real time A/V troubleshooting and a massive dip in productivity during the early minutes of a meeting.
Webex version 40.9 probably won't completely eliminate those issues – we're all human after all. However, it should happily reduce their frequency and help more meetings hit the ground running. Cisco's update will give audio and video controls a place of prominence on users' screens before they join a meeting. In previous incarnations of Webex, the "Join Meeting" button occupied a central, eye-grabbing location. This led many users to click it and then figure out the rest later. In 40.9, the "Join Meeting" button has been shuffled below the "Connect to video system," "Audio connection," and "Test speaker and microphone" options. This will hopefully provide the subliminal encouragement users need to sort out their connections prior to jumping into a meeting. Additionally, 40.9 has revised the "Mute" option. Gone is the red button with a microphone icon. In its place is an interactive microphone icon that fills with blue to simulate audio levels, indicating that a mic is live and in use.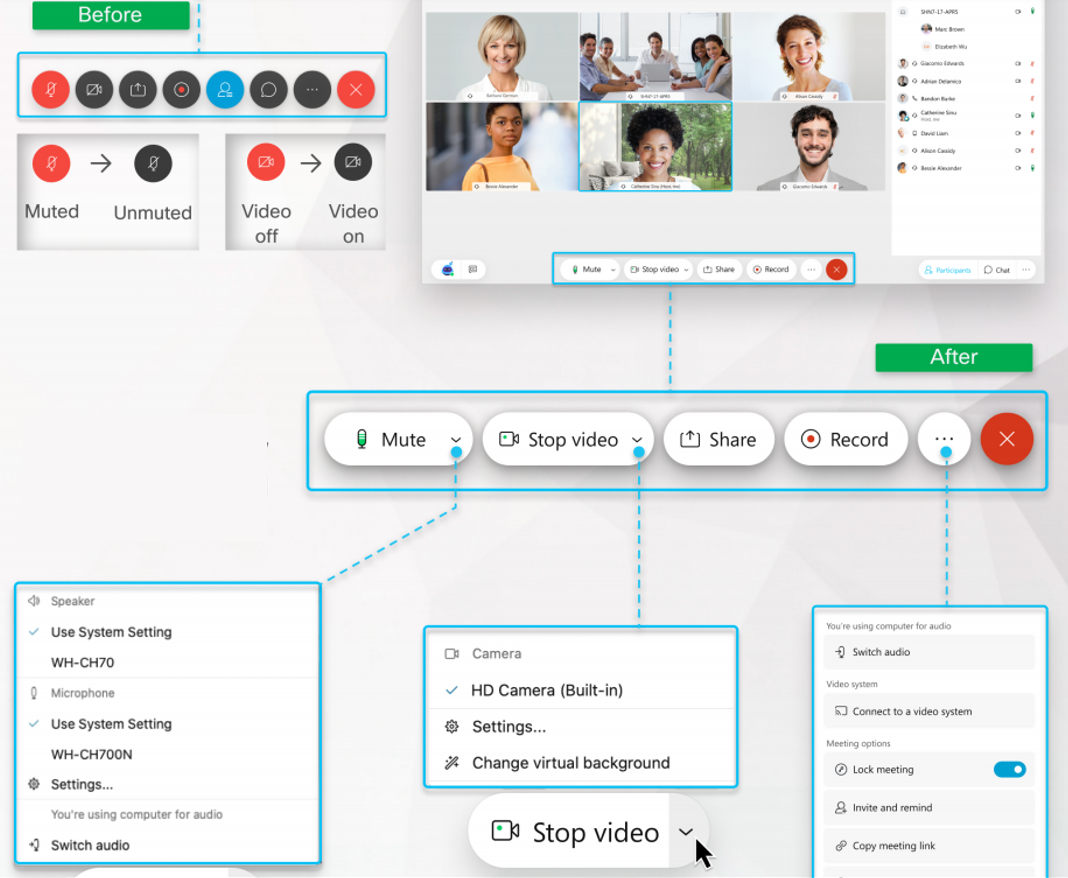 Reorganized control schemes
Currently, the "Participants" and "Chat" buttons are grouped rather haphazardly in with all of the other Webex meeting control buttons. They're not exactly hidden, however, they can be difficult to hone in on when moving quickly during a high-pressure meeting. Cisco has changed that, giving these controls some real estate of their own in 40.9.
In the latest version of Webex Meetings, the "Participants" and "Chat" buttons have been split out from the crowd and given some room to breathe. The 40.9 update relocates control of these panels off to the lower right hand side of the meeting window, away from the buttons managing audio, video, etc. Located alongside these buttons is an ellipses icon that houses controls for additional panels, including the "Polls" and "Notes" sidebars.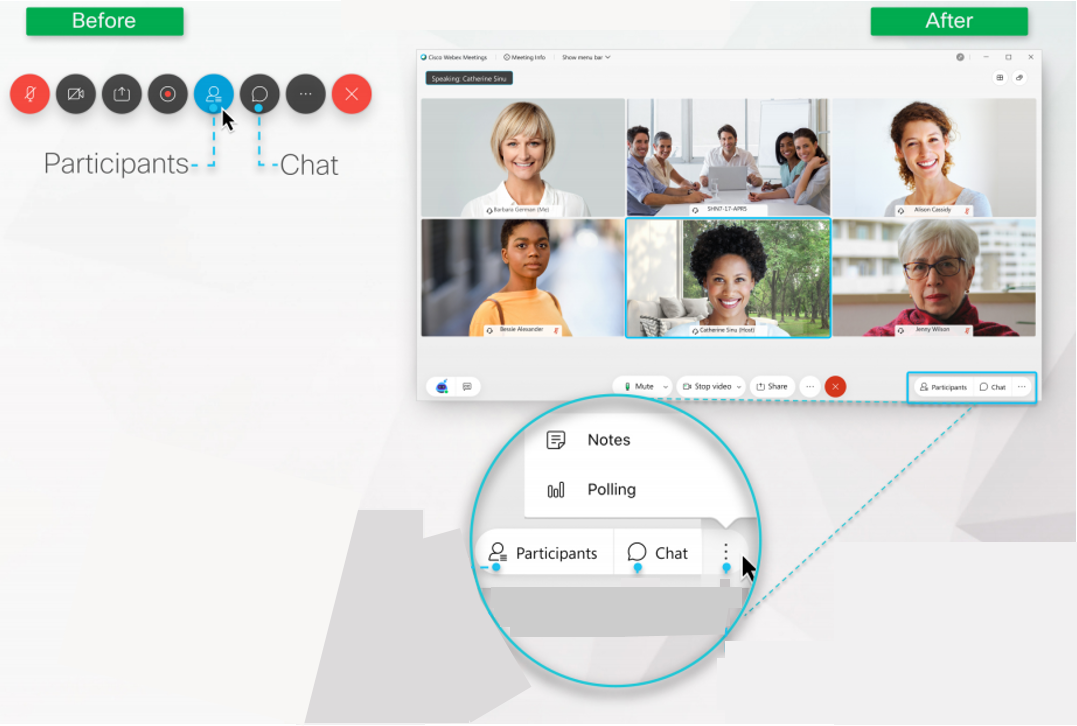 Adaptable control size
Space is of the essence on users' laptop screens. This is so often true during meetings, which many have come to view as perfect opportunities for multitasking. We'll set aside what this says about the relevance of the meetings many of us attend and simply look at the way in which Webex version 40.9 deals with the issue of multitasking in general.
Webex's revised control buttons are adaptable, adjusting in size to match the meeting window itself. A larger meeting window will allow the buttons to appear in their full glory, including both text and icon. However, should an attendee shrink the size of the meeting window, perhaps to work on something else while keeping an eye and ear on the proceedings, the buttons will adapt accordingly. The text will drop, leaving just the icon visible to attendees. This ensures that the majority of the re-sized window is reserved for what matters most: the faces and screens of the other attendees.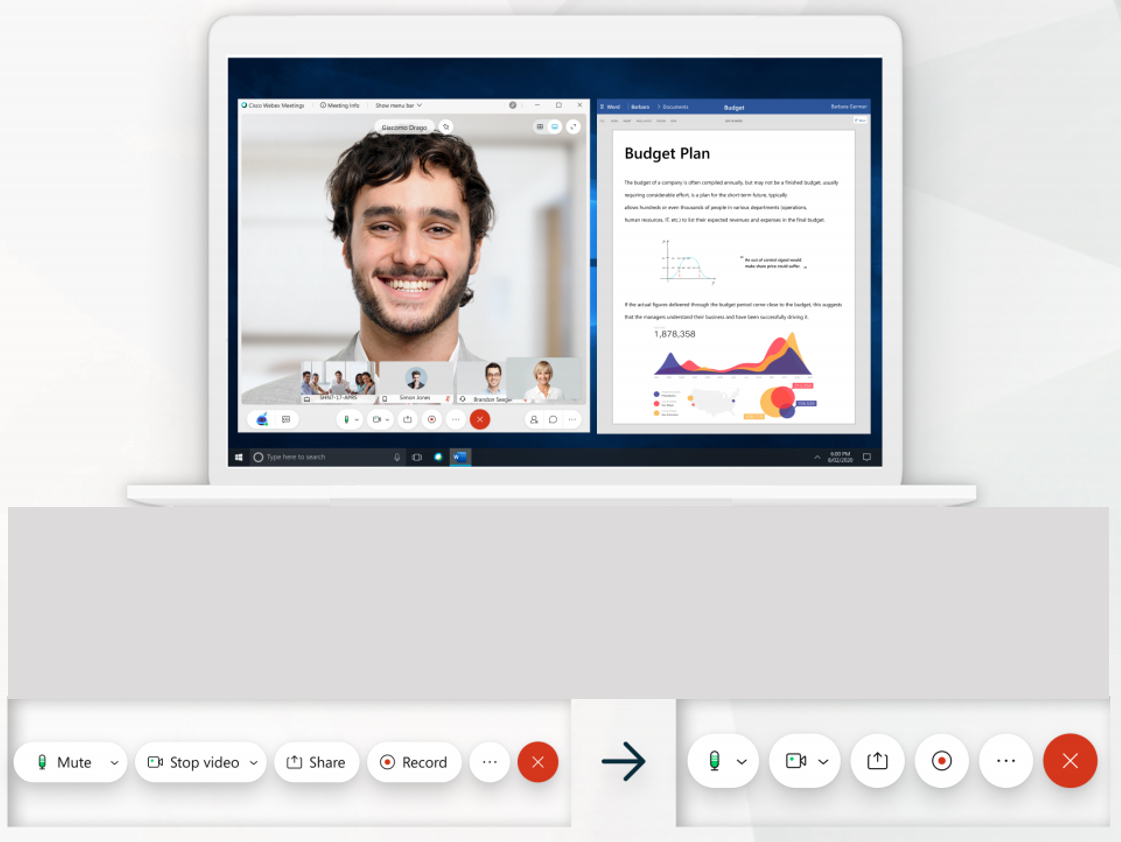 Next Steps: Prepping for 40.9 and the future of Cisco Webex
Webex version 40.9 is due for release in September. Now is the perfect time to start preparing your users for what Cisco has in store for them. If you'd like to learn more about the change coming to Webex, or just about the platform in general, Arraya's collaboration experts are here to help. Reach out to us today to open up a dialogue!
Visit https://www.arrayasolutions.com/contact-us/ to connect with our team now.
Comment on this and all of our posts on: LinkedIn, Twitter, and Facebook.
Follow us to stay up to date on our industry insights and unique IT learning opportunities.