Microsoft Teams Adoption: What's The Process?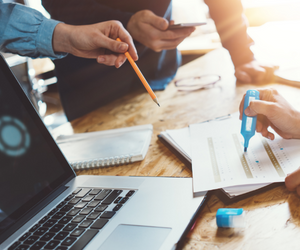 Pre-pandemic, working from home was considered an extra perk for employees. Now, as a large portion of the workforce continues to work from home throughout the pandemic, this "perk" has become more of an expectation.
In addition, a record number of Americans are quitting their jobs, which has been dubbed the "great resignation." It's now more important than ever that employees can virtually collaborate in a manner that's convenient, productive, and meaningful.
Based on these changes in the workforce, it's no surprise that more companies are adopting Microsoft Teams than ever before. Microsoft reported that Teams hit 250 million monthly users this past summer.
Microsoft Teams is built on Microsoft 365 and offers a workspace for real-time collaboration and communication. This includes meetings, team channels, file or app sharing, messaging, calls, and more.
Whether you're looking into collaboration tools for the first time or upgrading to Teams from Skype for Business, we've broken down the process of Teams adoption so you'll know what to expect.
The Three Phases of Teams Adoption 
When companies are in the initial stages of adopting Microsoft Teams, it's first important to consider their individual needs. With so many companies operating remotely or on a hybrid schedule, remote collaboration has made Teams a hot item (including here at Arraya).
Here are a few questions we ask to get an idea of our individual clients' needs: 
What are the primary ways they plan to use Teams?
What's their appetite for Teams?
Do they have prior experience with Teams?
What is working in their current collaborative construct? What isn't working?
What are they looking to achieve through adopting Teams?
Answering these questions allows us to better understand the existing collaborative construct and how Teams should be tailored and rolled out in a manner that ensures a successful adoption process.
Most users are looking to streamline and optimize communication throughout their organization. For employees who are heavy email users, their overcrowded inboxes may not be as productive as they could be. Or it might be time for multiple platforms to be consolidated. Overall, Teams can simplify your workflows.
The process of adopting Teams is broken down into three sections: 
Start
Several people need to be included in this conversation. Microsoft recommends that this team include an executive sponsor, success owner, program manager, IT specialists, and champions at a minimum.
It's also important to include employees to represent different areas of the workforce. There's a variety of use cases for Teams and no company, department, or single user will engage with Teams in the same manner. Conferring with a variety of employees in different roles will allow us to develop individual use cases to ensure Teams will benefit the many roles that support your business.
When adopting Teams, we recommend tackling what is known to your organization first. This could be messaging, sharing files, or scheduling meetings.
Experiment
We begin with a group of pilot users to start operating through Teams on 2-3 real projects, but with certain parameters. This allows users to become familiar with Teams while providing meaningful feedback. Once these users are comfortable with the technical aspects of Teams, they're given full access without restriction.
Scale
Using the information gathered throughout the experimental phase, we'll enable Teams for your entire organization. This will include defining your success measures, strategy, a training program, an awareness campaign, and preparation of adoption reviews.
From here, we can extend to full automation. This can include enabling Tasks by Planner to help users with the organization of deliverables or projects, or integrating third-party applications to be viewed within Teams, making Teams the default workspace application. For example, we could integrate Salesforce or Power Platform so they're automatically queued up within Teams.
Once Teams has been rolled out, you should review four categories of outcomes to monitor your employees' experience:
Organizational: This includes the overall cultural transformation, employee retention, social engagement, and operational agility.
Cultural: This includes employee sentiment, recommendations, and feedback, along with innovation measures.
Tangible: This includes customer experience impacts, costs savings, revenue generation, data security, and process simplification.
Individual: This includes use of desired tools and overall employee morale, productivity, and engagement.
The Team Admin Center offers great resources to help your organization monitor how the adoption is faring. Here you can review the number of conversations being held throughout your Teams platform, how many meetings are scheduled, and more.
Next Steps: Bring Your Organization Together with Teams 
Whether your organization is a small local business or a multi-national enterprise, Teams makes collaboration easier than ever.
For more information on the Teams integration process, check out our Expert Q&A video with Arraya's Senior Director of Presales Solutions, Chuck Kiessling, and Practice Manager of Workspace, Javier Barron.  
To get started on your Teams integration journey, reach out to an Arraya expert today.
Visit https://www.arrayasolutions.com/contact-us/ to connect with our team now.    
Comment on this and all of our posts on: LinkedIn, Twitter and Facebook.    
Follow us to stay up to date on our industry insights and unique IT learning opportunities.