Managed Services: Who's Actually Answering the Phones?
Something's wrong in your data center – who are you going to call? If your organization works with a Managed Services provider, that's likely your answer. However, who specifically is going to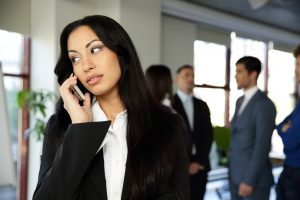 pick up the phone? Will it go to someone local you know and trust? Someone who understands your environment? Or will your request drop into the queue of a faceless technician in an offshore call center?
Some MSPs value anonymity. They treat their support resources as a revolving door. As one person exits, someone else picks up the headset. Maintaining a level of distance between team members and customers enables them to scale and offload responsibilities onto other providers in different regions. This increases the geographic area they are able to cover. They also see it as a way to standardize their response, building scripts and runbooks to classify and manage issues.
If any of this describes your Managed Services provider, finding a specific answer to "Who are you going to call?" might prove difficult.
Dispelling longstanding Managed Services myths
Arraya Solutions believes Managed Services is deliverable with a personal touch, without sacrificing efficiency. Beyond their usual support tasks, our team members take an active role in customer conference calls and strategy sessions. If a situation requires it, they can travel onsite to work shoulder-to-shoulder with the Customer's team to solve problems and execute changes.
A Tech Advocate backs our Managed Services staffers in their relationship-building efforts. This person is a ranking member of the team whose focus is enhancing the services Arraya provides. It's this person's responsibility to understand the ins and outs of a customer's IT environment. They become a trusted voice in conversations concerning upgrades, direction-changes, and more. The goal is to elevate Managed Services from strictly infrastructure support to more of an advisory function.
As for the idea of Managed Services as a revolving door, that's not one Arraya shares in. While some turnover is inevitable, Arraya's intent is for employees to make a career here. To encourage that, we invest heavily in employee training, giving team members every opportunity to learn the latest technical skills and experience.
Standing out from the Managed Services crowd
Arraya is a big believer in transparency and encouraging customers to get to know their team. This human approach serves as a worthwhile differentiator in a marketplace increasingly crowded with Managed Services providers. It's part of the innovative methodology that has earned Arraya a place on CRN's Managed Service Provider (MSP) 500 List every year since the list's inception.
Want to learn more? Visit https://www.arrayasolutions.com/contact-us/ to get a conversation started today.
If you'd like to leave a comment on this story, please do so through our social media presence: LinkedIn, Twitter, and Facebook. While you're there, follow us to keep up with our latest blogs, industry insights, and exclusive learning opportunities.