Survive the Holidays with Cisco Collaboration Flex Plan Licensing
With the holiday shopping season just around the corner, the holiday hiring season is also in full swing. According to estimates from Challenger, Gray, & Christmas, Inc., leading employers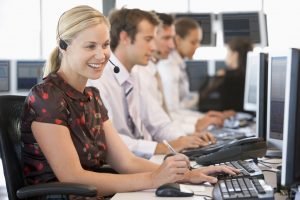 are expected to hire just shy of 590,000 new workers for the forthcoming holidays and potentially beyond. Of course, not all of those hundreds of thousands of fresh faces will need to provide an actual face. Many will be stationed in call centers to aid with processing customer requests and solving problems. In addition to the new seasonal hires, contact center admins also recently gained some unexpected flexibility.
Earlier this month, Cisco unveiled its new Collaboration Flex Plan Contact Center subscription model. The idea is to empower employers to tailor their Cisco contact center solution to better meet their needs. It accomplishes this by allowing organizations to move from one deployment style to another so they can take advantage of the differing feature sets. For example, they could move from an on-premises deployment model to the cloud in order to leverage the latter's included real time and historical reports data storage capabilities. Or, the choice exists to go from partner hosted to on-premises to leverage its optional call recording features.
What about all of those new seasonal agents? Their options depend upon their existing Cisco Contact Center subscription. If the model they move to doesn't include an agent overage feature, they will need to edit their subscription to add additional agents. However, if the model they select does have an agent overage feature, they'll be able to cover additional agents for what amounts to a bolted-on monthly fee.
More Collaboration Flex Plan license essentials
There are a few additional need-to-know points about Cisco's Collaboration Flex Plan licensing. For starters, there are two unique types of agents available as part of this subscription model: standard and premium. As the name implies, the standard agent type can handle basic call center deliverables. Meanwhile, premium agents sport all of those capabilities plus multi-channel communication capabilities and supervisory functions. These types can work together, as part of the same agreement.
Furthermore, Cisco Collaboration Flex Plan licensing is only available as part of a Concurrent Agent model supporting multiple simultaneous agent log-ins. It is also based on a predetermined, monthly commitment of agents. As mentioned above, depending on the deployed solution, this figure could represent a hard cap on the number of users or merely as a trigger for temporary overage protections.
Next Steps: Learn more about Collaboration Flex Plan licensing
Want to continue the Cisco Collaboration Flex Plan Contact Center conversation? Arraya's team of Cisco collaboration experts is just a click away. Send them a message today by heading over to: https://www.arrayasolutions.com/contact-us/.
Let us know what you think! Please leave us any comments or questions on of our social media pages. We can be found on LinkedIn, Twitter, and Facebook. Then, follow us so you can keep up with our take on industry news and exclusive learning opportunities.